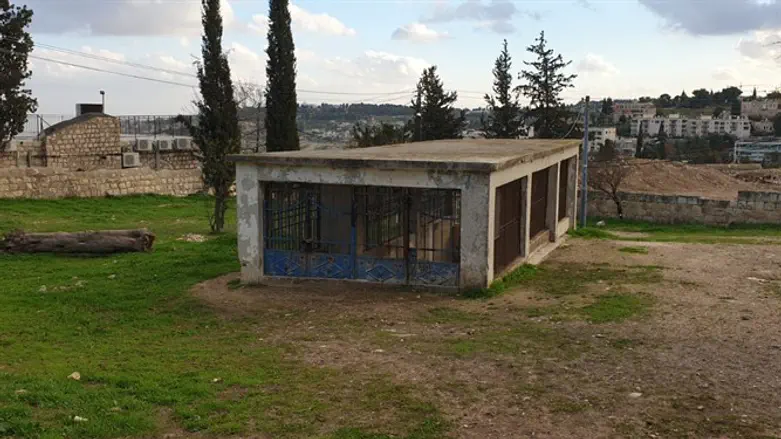 Is IAA giving David's Tomb to the Vatican?
Eliran Aharon
The activists working for the preservation of Tomb of King David in eastern Jerusalem gathered Wednesday to expose a new tunnel that passes beneath the tomb, a site of major historical and religious significance to the Jewish people.
The tunnel, about 600 meters (1970 feet) long and 1.5 meters (5 ft.) wide, was intended to serve as an underground passage of a nearby church from the main building to the residences of the clergy in the Beit Yosef building.
"The tunnel was built covertly over the course of about ten years," the Jewish activists claimed. "The intention of the church is to build another church in the area of ​​the ancient mikvah (ritual bath) and to harm its Jewish character."
According to Rabbi Yosef Berger, the rabbi of King David's Tomb on Mount Zion, the Israel Antiquities Authority is cooperating with the Vatican and turning the site into the Vatican's main outpost in Israel with the approval of the Israeli government.
Rabbi Berger stated that the tunnel revealed treasures directly related to King David and proves that the place is the real site where King David was buried. The Jewish activists are also troubled by an agreement signed by former President Shimon Peres with the pope, according to which the place will be transferred to full Christian control.
It should be noted that the tunnel that was unexpectedly uncovered by the state was closed recently and that the Christians continue to hold the keys to the site.
The Israel Antiquities Authority said in response that "the Antiquities Authority's representatives supervise the activity at the Tomb of David every day, an important site with a rich and fascinating history. The claims presented in the article do not deal with archaeology, but with an absurd accumulation of inventions."
The interfaith dispute over the compound known as the "Tomb of David" is based on the unique character of the building in question, located at the top of Mount Zion, very close to the Old City of Jerusalem. The building is considered sacred to Jews, Muslims, and Christians.
However, the dispute with the Christians is more complicated because, according to Christian tradition, the second floor of the building contains the room where the "Last Supper" occurred. Christian masses take place on the second floor of the tomb, which is considered sacred to the Christians.
האם רשות העתיקות עם הוותיקן?
אלירן אהרון