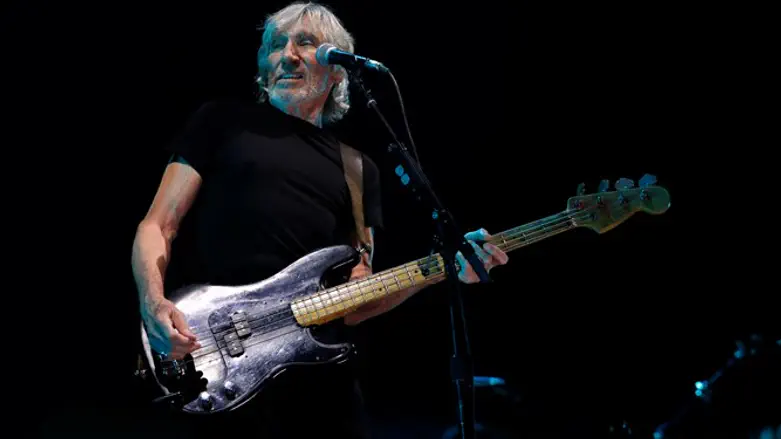 Roger Waters
Reuters
A Pink Floyd cover band on Tuesday rescinded its cancellation of its upcoming Israel tour, which it had cancelled last week following pressure from Roger Waters, co-founder of the original Pink Floyd and a notorious BDS activist, JTA reported.
Last Sunday, UK Pink Floyd Experience cancelled its shows in Tel Aviv, Haifa and Be'er Sehva early next month, hours after Waters posted a letter calling on the group to honor the Israel boycott.
By Tuesday, however, it had made an about face, posting a statement on its website that it was "obliged to fulfill our contractual obligation" and would "perform a one-off special concert together with Israeli Pink Floyd Tribute Band 'Echoes.'"
The band said that it had decided to accept the invitation to play in Israel without wishing to involve itself in politics. In the statement quoted by JTA, it said its members regret "the upset caused by all of this, it was far from our intention to stir up all this anger and hatred, when the opposite was what was intended. In hindsight, it was very naive to think our motives would not be misunderstood and misrepresented."
The band previously played in Israel in 2017.
After it had announced the cancellation, supporters of Israel flooded the band's Facebook page with angry posts, leading UK Pink Floyd Experience to take down its Facebook page.
Waters has in the past compared Israel to Nazi Germany, saying in an interview, "The situation in Israel/Palestine, with the occupation, the ethnic cleansing and the systematic racist apartheid Israeli regime is unacceptable."
He previously released a giant balloon pig bearing the Star of David during a concert in Belgium. Concert-goers said the Jewish star was among several symbols representing various corporations and fascist movements.
In addition, he has verbally attacked many artists who chose to perform in Israel over the last several years.
His list of targets includes Jon Bon Jovi, Alan Parsons, the Rolling Stones, Neil Young, Radiohead, Nick Cave and actress Scarlett Johansson.
More recently, Waters was among a group of more than 100 artists who published an open letter calling for a boycott of the Eurovision Song Contest 2019 which will be held in Israel.
Waters argues that BDS "isn't about music – it's about human rights."