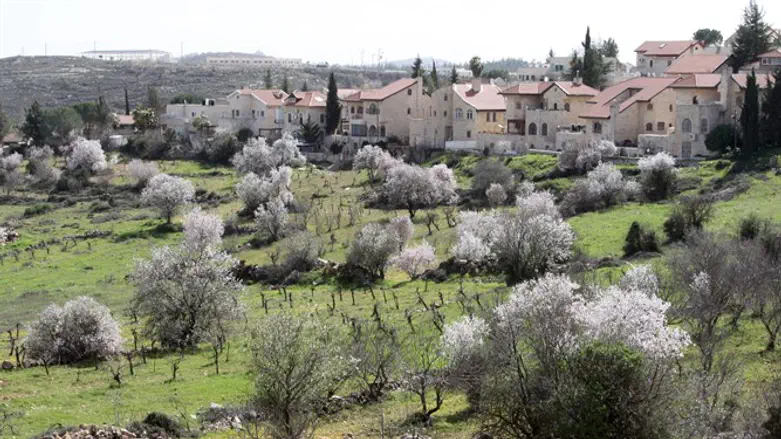 Efrat, Gush Etzion
Flash 90
The Airbnb online rental company issued a statement in response to reports that it had backtracked on its earlier decision to ban listings of Jewish properties in Judea and Samaria.
The Tourism Ministry had announced following a meeting with Airbnb officials that the company would not enforce its boycott of Jewish homes over the so-called green line. The ministry had called the move a "a step in the right direction."
Airbnb had also issued a statement in Hebrew saying that the policy would not be implemented.
"A delegation of senior executives from Airbnb, headed by Vice President Chris Lanhan, held a meeting in Jerusalem today with Tourism Minister Yariv Levin," the Hebrew statement read. " At the end of the meeting, Airbnb announced that the policy will not be implemented in practice. Airbnb will continue its dialogue with the Israeli government."
Later, Airbnb released a statement in English in which the company stated: "The reports issued earlier today are inaccurate. Airbnb expressed its unequivocal rejection of the BDS movement and communicated its commitment to develop its business in Israel, enabling more tourists from around the world to enjoy the wonders of the country and its people."
"We are here to meet with a variety of stakeholders and as a result of our meetings have an even deeper understanding that this is an incredibly complex and emotional issue. Airbnb communicated that we are developing the tools needed to implement our policy and that process includes continuing our dialogue with the Government of Israel and other stakeholders."
Airbnb's statement could be read to mean that it has not yet implemented its boycott policy and will determine how the policy will be enforced at a later date. The Tourism Ministry had not stated that the policy was being dropped altogether, only that it would not be enforced.
Last month, the online rental marketplace announced that it will no longer list homes in Jewish communities of Judea and Samaria. About 200 homes in Judea and Samaria had been listed on Airbnb prior to the announcement.
Airbnb justified the decision by stating that it had developed a new five point checklist for handling listings in "occupied territories." and had "concluded that we should remove listings in Israeli settlements in the occupied West Bank that are at the core of the dispute between Israelis and Palestinians."
Critics have accused Airbnb of discrimination against Jews as it continues to list properties in Judea and Samaria that are not owned by Jews and has not delisted any properties in any other conflict zone, including Turkish-occupied northern Cyprus, Russian-occupied Crimea, or Chinese occupied Tibet, among others.