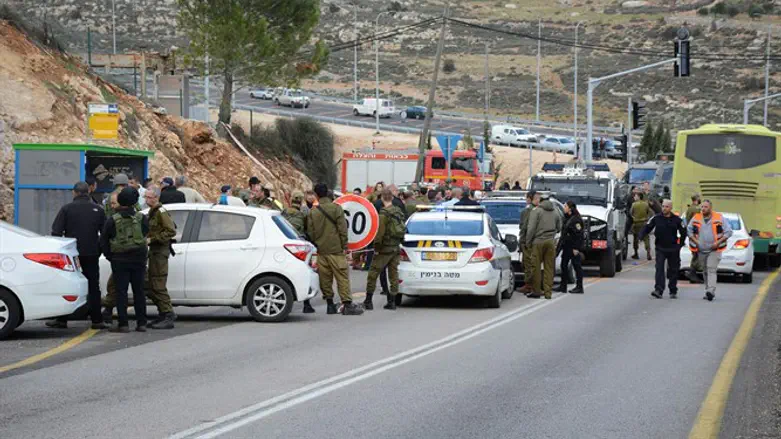 Terror attack at Givat Assaf
Michael Cohen/TPS
The family of Natanel Felber, who was wounded in last week's attack at Givat Assaf, asks the public to pray for his recovery.
Felber's Hebrew name for prayer is Netanel Ilan ben Shayna Tzipora.
Filber is unconscious and remains in critical condition."We would like to take this opportunity to thank everyone for the care, the love, and the support in these difficult times," said his parents on Saturday evening. "Netanel always came home with a smile that illuminated the house."
Doctors said that Shira Sabag, who was injured in the incident at Givat Assaf on Thursday, has been improving. Shaare Zedek Hospital reported that Sabag has been transferred from the intensive care unit a regular ward.
The hospital also reported that both Shira and Amichai Ish-Ran's conditions have taken a turn for the better after they were shot near Ofra on Sunday.
On Thursday, IDF Sergeant Yuval Mor-Yosef and Corporal Yosef Cohen were murdered by Arab terrorists in a shooting attack next to Givat Assaf, north of Jerusalem
An initial investigation revealed that the terrorist arrived at a hitchhiking post at Givat Assaf with his vehicle before stepping out and opening fire at those assembled there. The two soldiers were killed immediately by the gunfire at point blank range while the other soldier and Sabag were injured.
The terrorist then fled towards Ramallah, where he abandoned his vehicle. The IDF and Shin Bet have launched a massive manhunt after the terrorists and are conducting searches in a number of villages.