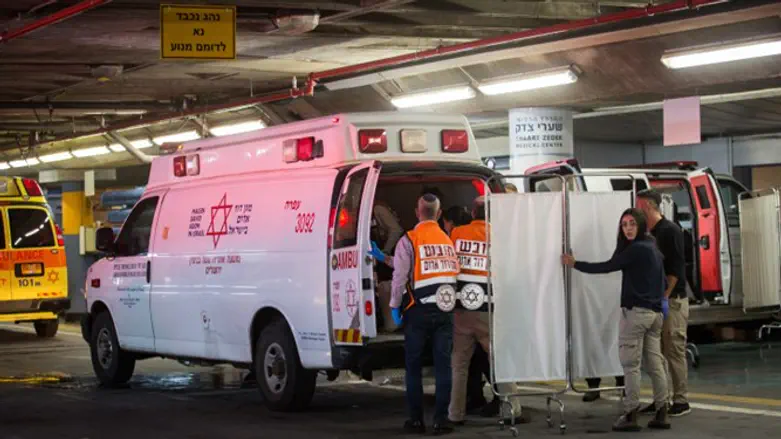 Woman wounded in Ofra attack evacuated to Shaare Zedek Hospital
Hadas Parush/Flash90
A newborn baby boy delivered Sunday night after his mother was shot during a terror attack north of Jerusalem remains in critical condition, as doctors at Shaare Zedek Medical Center in Jerusalem fight to keep him alive.
The child's grandfather and the father of the young woman wounded in the attack, Chaim Silberstein, spoke out on the Haolam Haboker program Tuesday morning regarding the condition of his wounded daughter and newborn grandson.
According to Silberstein, despite a general improvement in his daughter's condition, doctors "found a decrease in hemoglobin, which could suggest that there is [still] some bleeding. We just hope that it's nothing serious."
Regarding the condition of his grandson, Silberstein said the child's life remained in jeopardy.
"Unfortunately, his condition is not good. He needs a lot of prayers. He suffered a trauma during the seconds immediately before and after his birth, and unfortunately, this has affected him very seriously."
Silberstein added that his daughter, Shira Ish-Ran, remains unaware of the condition of her newborn son.
Shira, her husband Amichai, and five other people were shot and wounded during a drive-by terrorist shooting attack at a bus stop next to the town of Ofra, north of Jerusalem Sunday night. Shira was critically wounded in the attack, while the six other victims were listed in moderate to light condition.
The terrorists responsible for the attack fled the scene immediately after the shooting, and remain at large.