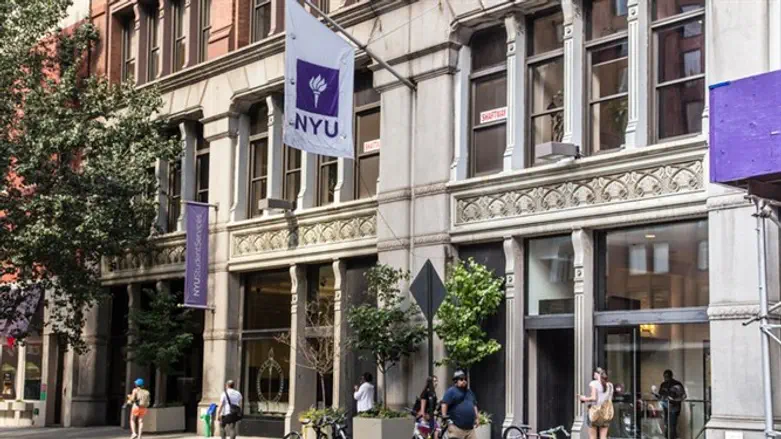 New York University
iStock
The Student Government Assembly (SGA) at New York University (NYU) voted in favor of a BDS-type resolution calling for the divestment of companies that do business with the IDF, i24news reports.
The "Resolution on the Human Rights of Palestinians" co-authored by Israeli-Jewish student Rose Asaf along with Bayan Abubakr, and Leen Dweik, calls on NYU to divest specifically from Caterpillar Inc., Lockheed Martin, and General Electric unless they agree to stop "play[ing] an active role in funding and perpetuating Israel's illegal occupation and its violation of human rights, making NYU complicit in these crimes."
The companies are singled out for selling bulldozers, helicopters, and engine generators to the IDF, used for the demolitions of homes of Palestinian Arabs and in military operations.
The secret ballot came out with 35 votes in favor, 14 against and 14 abstentions following speeches from opposing sides. The motion also included a list of over 60 student organizations and 30 faculty members endorsing it, according to i24news.
The resolution must also to pass in the University Senate, which includes not just students but also faculty, deans, and staff. If approved, it will be presented for consideration by the Board of Trustees.
There have been several attempts to endorse BDS in US campuses, but not all of them have been successful. Last week, the Undergraduate Student Government of the Ohio State University voted down a resolution to divest from companies which "benefit from the Israeli occupation of Palestine," and to boycott Israeli products.
In September, University of Michigan professor John Cheney-Lippold was criticized after he declined to recommend junior Abigail Ingber for a semester abroad in Israel because he supports the Boycott, Divestment and Sanctions (BDS) movement against the country.
In response, 58 organizations called on the University of Michigan to sanction professors who implement academic boycotts of Israel.
Later, a report surfaced about a second academic at the University of Michigan who refused to write a letter of recommendation for a student to study abroad in Israel, citing support of an academic boycott of the Jewish State.
The university subsequently disciplined Cheney-Lippold and apologized to the two students who were refused letters.