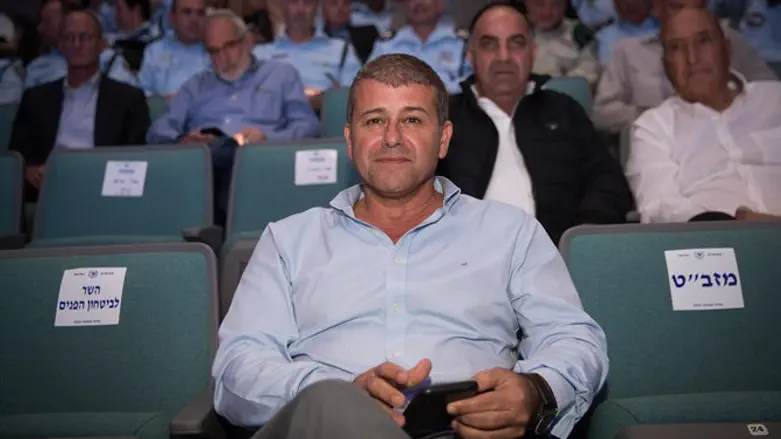 Moshe Edri
Yonatan Sindel/Flash90
Major General (res.) Moshe Edri announced Wednesday evening that he had decided to withdraw his candidacy for the position of police commissioner.
"Unfortunately, there are many forces whose sole purpose, from the day I was declared a candidate, was to thwart my candidacy for the post, to slander and trample my reputation and hurt my family," Edri said.
"I fought in the IDF as the deputy commander of the Golani reconnaissance unit, after which I served in the Israel Police Force for more than 28 years in core positions, in special units, in stations, in areas and as commander of the most complex districts, and I was highly respected. And challenging the public safety, the fight against terrorism and crime, I salute them," added Edri.
"I have no intention of allowing the continuation of the campaign of slander against me ... I was chosen as the candidate for the important post of the Commissioner of the Israel Police. The opinion of the committee, and especially the opinion of the two members of the committee, Civil Service Commissioner Prof. Daniel Hershkowitz and Mr. Moshe Terry, who recommended my candidacy and wrote in their opinion: 'This is an attempt to harm the candidate's candidacy at any cost.'
"I thank the Minister of Public Security for the great trust he placed in me when he stood by me all along, and the Israeli public, for his great support for me, who felt the injustice that was caused to me. To me and express it to me wherever I visit," added the retiring candidate.
He said he preferred to end the saga around him and give up the job. "Therefore, out of sincere concern and love for the Israel Police, which may remain without a regular commander for many months and which will also bear the cost of the storm and the campaign of slander, I have decided in recent days to announce I wish success to those who choose to be the police commissioner and continue to contribute to any mission for the State of Israel and its citizens."
Minister of Public Security Gilad Erdan expressed his regret over the removal of the candidacy of Major General (Res.) Moshe Edri as Police Commissioner.
"Edri is a man who has fought for decades for the security of Israeli citizens, and even if he made a mistake along the way, he was subjected to a campaign of unjustified slander that caused him a terrible injustice," Erdan said.
He emphasized that the application process was conducted in the most orderly and appropriate manner, and that the candidacy of Major General Edri was examined first and foremost by all the enforcement authorities by the Attorney General and his team and approved.
"In spite of the slander, Edri underwent a polygraph test successfully, and no other officer is going through his past," he said.