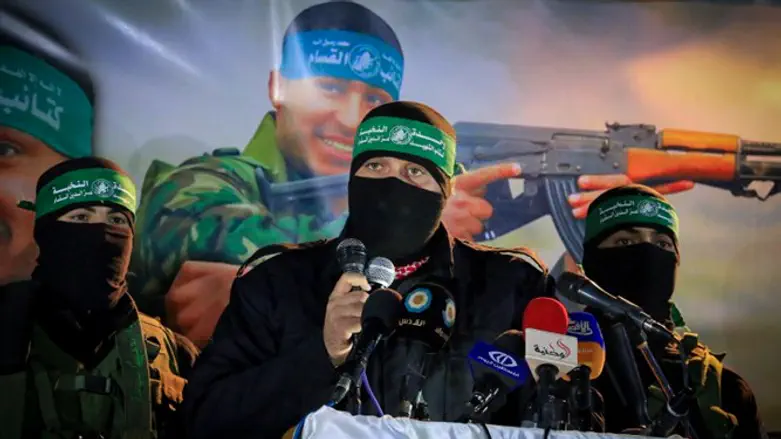 Hamas
Abed Rahim Katib/Flash 90
The European Union (EU) on Tuesday condemned the sentencing of six Gazans to death for "collaborating" with Israel.
A military court in Hamas-run Gaza on Monday sentenced six people, including a woman, to death by hanging over the alleged spying for Israel. In total 14 people were sentenced for "collaborating with the occupation".
The heads of EU missions in Jerusalem and Ramallah said in a statement quoted by the Xinhua news agency that they strongly reject the death penalty, no matter what the circumstances are.
"The abolition of the death penalty contributes to the protection of human dignity and to the progress and development of human rights," said the statement, which denounced the death sentences as "cruel and inhumane."
The EU statement added that "death penalty does not constitute a deterrent to criminal conduct and constitutes an unacceptable denial of human dignity and integrity."
It called on Hamas rulers in Gaza "to refrain from executing any death sentence against the prisoners."
Hamas regularly claims to have captured "Israeli spies", and many times it tries them and sentences them to death.
In theory all execution orders in the Palestinian Authority's (PA) territories must be approved by PA chairman Mahmoud Abbas, who is based in Ramallah and who imposed a moratorium on executions several years ago.
Hamas no longer recognizes Abbas' legitimacy, and has in the past emphatically declared that the death penalty in Gaza can be carried out without his consent.
In October, the group claimed to have exposed and arrested a Palestinian Arab who had worked as an intelligence agent for Israel for 15 years.
In March, the group claimed it had arrested a local man who had been working as a "spy" for Israel and who intended to convince Gazans not to take part in a violent protest march along the Gaza-Israel border.
Last April, the group hanged three men accused of collaborating with Israel in the killing of senior Hamas commander Mazen Faqha.