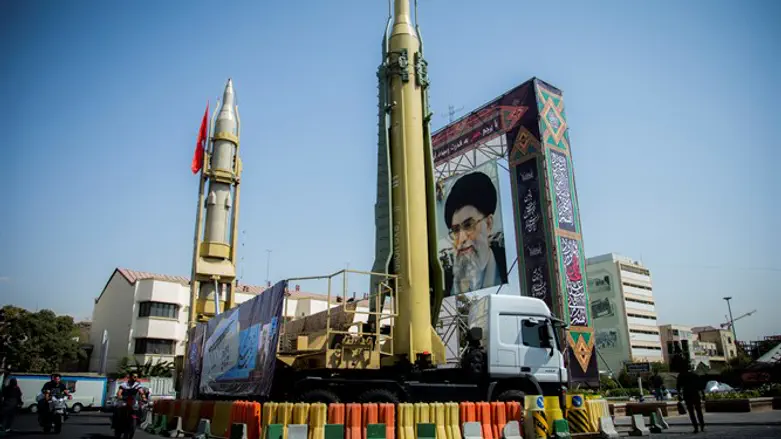 Display featuring missiles and portrait of Iran's Supreme Leader Khameni
Reuters
In a highly irregular move, a 747 packed with Iranian weapons destined for Hezbollah flew directly from Tehran to Beirut's Rafic Hariri Airport on Thursday.
According to reports, a 747 registered as EP-FAB, took off this morning at 8:02 am from Tehran to Beirut on flight QFZ9964 and landed in Lebanon at 10:19 am.
The plane was operated by Fars Air Qeshm, an aviation company owned by Iran's Revolutionary Guard Corps to ferry weapons to Hezbollah. According to the website Intelli Times, the plane carried equipment to convert Hezbollah's rocket arsenal to precision missiles capable of hitting sensitive sites within Israel.
Iran's Fars Air Qeshm airline has long been accused of flying arms for the Islamic Revolutionary Guard Corps (IRGC) and the elite Quds force led by Iranian Gen. Qassem Soleiman. Last year, the Trump administration imposed sanctions on the IRGC and Quds force.
The airline had ceased operations in 2013, citing poor management, but restarted under new management in March 2017. It is said to have two Boeing 747s in its fleet. Among the members of the company's board are three IRGC representatives, named in the report as Ali Naghi Gol Parsta, Hamid Reza Pahlvani and Gholamreza Qhasemi.
While Iran has invested considerable efforts to transfer advanced missiles to Hezbollah, it commonly flies from the Islamic Republic to Syrian air force bases, making the flight path highly irregular.
Western intelligence has already tracked two similar flights within the past few months. In September, Fox News reported that a Boeing 747 that departed from an air force base in Tehran, stopped for a short layover at the international airport in Damascus, Syria, and then continued with a rather "uncharacteristic flight path" to the Beirut international airport, where it landed shortly after 4:00 p.m. local time.
According to flight data obtained by Fox News, the route passed over northern Lebanon, not following any commonly used flight path.
A regional intelligence source who asked to remain anonymous told the news network, "The Iranians are trying to come up with new ways and routes to smuggle weapons from Iran to its allies in the Middle East, testing and defying the West's abilities to track them down."
Western intelligence sources said the airplane carried components for manufacturing precise weapons in Iranian factories inside Lebanon. The U.S. and Israel, as well as other western intelligence agencies, have supplied evidence that Iran has operated weapons factories in Lebanon, Syria and Yemen.
The Iranian-backed Lebanese Hezbollah has been building factories in the heart of Beirut to convert missiles into highly-accurate precision weapons capable of striking sensitive Israeli sites. Upon deciding to convert its massive 150,000-strong rocket arsenal to missiles with pinpoint accuracy, Hezbollah chose to transfer its sites to the heart of Beirut in order to deter Israeli airstrikes.
Israel has repeatedly reiterated that it will not allow Hezbollah to obtain highly accurate missiles that would threaten sensitive Israelis sites and has been escalating its threats vis a vis Lebanon.
Hezbollah currently possesses over 150,000 thousand missiles, more than most NATO countries. Senior defense officials have said repeatedly that Hezbollah is now Israel's major threat and predict that hundreds of Israelis will die in the next war between the two sides.