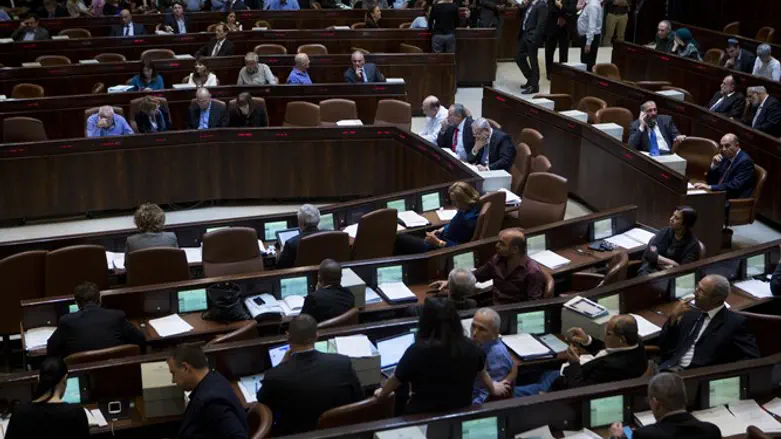 Knesset plenum
Miriam Alster/Flash90
A vote on a bill which would make it easier to cut state funding of artists and performances deemed 'disloyal' or anti-Zionist by the government was dropped from the Knesset's agenda Monday, after coalition leaders failed to secure a majority.
Dubbed the "Cultural Loyalty Law", the bill would empower the Minister of Culture and Sport to nix state funding of artists, theaters, musicians, or other performing artists who publicly reject Israel as a Jewish, democratic state; mark Israeli independence day as a day of mourning; desecrate or destroy Israeli national symbols like the flag; or to praise or otherwise express solidarity with terrorism.
The bill was drafted by Culture and Sport Minister Miri Regev (Likud), and has been endorsed by Kulanu chief and Finance Minister Moshe Kahlon.
Since former Defense Minister Avigdor Liberman's Yisrael Beytenu party bolted from the government, the Likud-led coalition has been left with a bare minimum majority of 61 MKs in the 120-member Knesset.
Monday's vote was to have been the first major test of the narrow coalition government's ability to function with only a two-seat majority.
Despite Kahlon's support for the bill, the Kulanu chief permitted faction members to vote as they wish on the bill, with several MKs expressing criticism of the proposed law.
Coalition leaders had hoped that despite its departure from the government, Yisrael Beytenu would back the bill, guaranteeing a majority in the Knesset plenum.
The party refused, however, to make any such assurances, denying the bill a guaranteed majority.
A source involved in attempts to pass the bill told Kan Sunday night that the bill was "dead".
"The Cultural Loyalty Law is dead, there is no majority in the current coalition."
Minister Regev, the bill's primary backer, has announced a press conference in the Knesset set for 1:00 p.m. Monday.