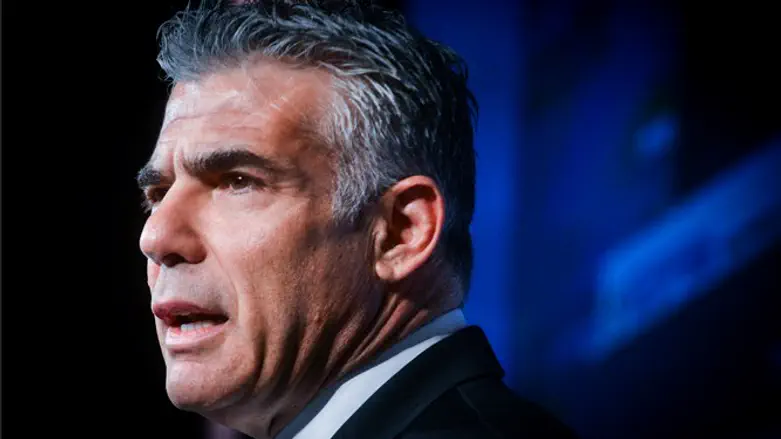 Yair Lapid
Flash 90
Prime Minister Netanyahu and Yesh Atid leader MK Yair Lapid both slammed each other Thursday night in a showdown over a corruption investigation nicknamed 'Case 2000'.
Writing on Facebook, Netanyahu said that Lapid should be investigated by the police following reports that he would routinely meet with Yediot Aharonot newspaper publisher Arnon 'Noni' Mozes while he served as finance minister.
Netanyahu pointed out that Yesh Atid supported the 'Yisrael Hayom Law', which would have shut down the free daily and boosted Yediot Aharonot's earnings. The prime minister also invoked reports that Yesh Atid ministers had paid Yediot Aharonot millions for hidden advertising while serving in the government.
"Did Lapid and Moses talked about the Yisrael Hayom Law? Have we discussed the millions that flowed from one party's ministers to the other?" asked Netanyahu.
"The answers to the questions are still vague, but despite disregarding the calls to look into the questions, the police and the law enforcement system will also have to decide soon: If positive coverage and promoting a law for a friend and associate are not criminal offenses, why did the [Case 2000] investigations begin?"
Lapid responded by criticizing Netanyahu's "crooked priorities" for choosing to attack his political rivals instead of dealing with more weighty matters.
"That's how pressure looks. That's how crooked priorities seem," wrote Lapid. "The South is licking its wounds, the cost of living is at the level of Tokyo, but Netanyahu and his emissaries are busy with the question of whether I met Noni Mozes. The answer is yes, sure, why not?"
Channel 10 reported earlier this week that Lapid would periodically meet with Yediot Aharonot publisher Noni Mozes while he served as Finance Minister.
Mozes, a central figure in the 'Case 2000' probe involving Prime Minister Netanyahu, owns the Yediot Aharonot newspaper and is seen by many as one of Israel's most powerful people.
The frequent meetings were held on Friday mornings at the home of a businessman from the affluent city of Savyon. While Lapid listed the meetings he had with journalists in his publicly disclosed daily planner, his sessions with Mozes remained off the record.
Lapid, who formerly wrote for Yediot Aharonot, said that his meetings with Mozes were innocuous, adding that he had met with other newspaper publishers "such as Sheldon and Miri Adelson, Ron Lauder, Eli Azur, and others".
Mozes has featured prominently in an influence-peddling scheme together with Prime Minister Netanyahu. In the investigation known as 'Case 2000", police probed allegations that Netanyahu conspired with Mozes as the publisher of the Yediot Aharonot newspaper against Israel Hayom – a competing Hebrew daily distributed for free in Israel.
The case centers around claims that Netanyahu agreed to pass legislation, dubbed the "Israel Hayom Law", banning the free distribution of newspapers, in exchange for promises from Mozes that his paper would tone down its criticism of the premier.