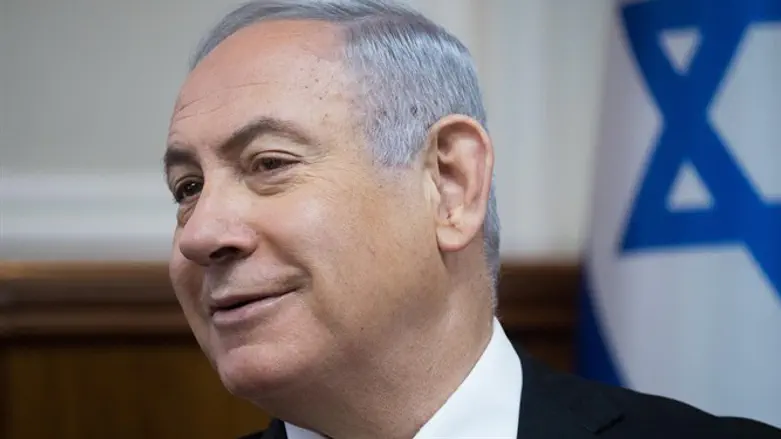 Netanyahu at cabinet meeting
Flash 90
A week after the Israeli cabinet accepted a controversial ceasefire deal with the Hamas terror organization, prompting Defense Minister Avigdor Liberman to resign from the government, polls show the Likud rebounding.
Last Tuesday, the government accepted an Egyptian-brokered ceasefire with the Gaza-based terror group Hamas.
A day later, then-Defense Minister Avigdor Liberman (Yisrael Beytenu) announced his resignation from the government in protest of the ceasefire agreement.
The Jewish Home party, which had protested the ceasefire, threatened to bolt from the coalition as well, likely toppling the Likud-led government, if party chief Naftali Bennett was not tapped to replace Liberman as Defense Minister.
Polls taken in the aftermath of the ceasefire and Liberman's resignation showed the Likud losing seats if new elections were held, while Yisrael Beytenu made modest gains, rising from the five mandates it currently holds to between six and eight seats.
A new survey, however, conducted by the Midgam agency on behalf of Army Radio shows the Likud retaining the 30 seats it won in 2015.
The second largest faction according to the poll, former Finance Minister Yair Lapid's Yesh Atid party, would win 18 seats – up from the 11 it currently holds but below the 19 it won in 2013, and far below the 22 to 27 it was projected to win in late 2017 and early 2018.
The left-wing Zionist Union and predominantly Arab Joint List party would each win 12 seats if elections were held today, a massive decline for the Zionist Union, which won 24 seats in 2015, and a loss of one seat for the Joint List compared.
The far-left Meretz faction, which won five seats in 2015 would fall to just four mandates, barely passing the 3.25% minimum electoral threshold.
On the right, the Jewish Home party, which currently holds eight seats, would rise slightly to nine mandates, while Liberman's Yisrael Beytenu party would win eight seats. Yisrael Beytenu won six mandates in 2015, but was reduced to just five seats in 2016, when MK Orly Levy bolted from the party.
A new party led by MK Levy would win 6 seats, the poll showed, while Finance Minister Moshe Kahlon's Kulanu faction would fall from 10 seats to 8.
Among the haredi factions, the Sephardic Shas party would lose one seat, falling from seven to six mandates, while the Ashkenazi United Torah Judaism party would gain a seat, rising from six to seven.
Former Likud MK Moshe Feiglin's Zehut party and former Interior Minister Eli Yishai's Yahad did not pass the 3.25% minimum threshold.