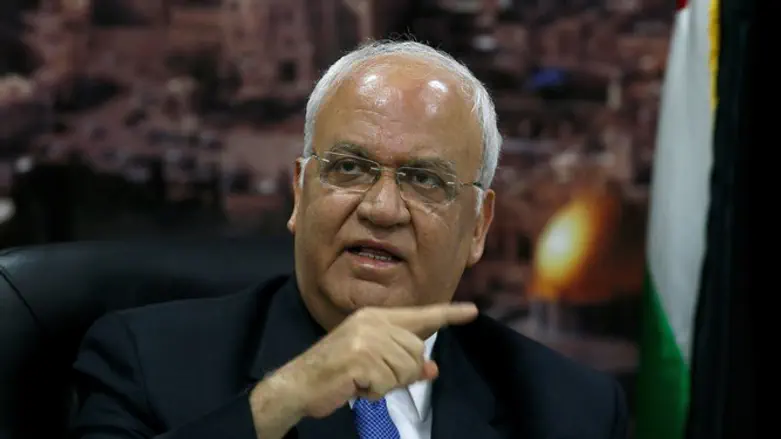 Saeb Erekat
Reuters
Saeb Erekat, the Palestinian Authority (PA) chief negotiator, on Monday welcomed the decision of the Airbnb online rental marketplace that it will no longer list homes in Jewish communities in Judea and Samaria.
"While we believe that this is an initial positive step, it would have been crucial for Airbnb to follow the position of international law that Israel is the occupying power and that Israeli settlements in the West Bank, including occupied East Jerusalem, are illegal and constitute war crimes," he said in a statement.
"We reiterate our call upon the UN Human Rights Council to release the database of companies profiting from the Israeli colonial occupation. Israeli settlements are not just an obstacle to peace but defy the very definition of peace," added Erekat.
Airbnb announced in a blog post earlier that it had developed a new five-point checklist for handling listings in "occupied territories" and had "concluded that we should remove listings in Israeli settlements in the occupied West Bank that are at the core of the dispute between Israelis and Palestinians."
"We are most certainly not the experts when it comes to the historical disputes in this region," Airbnb said.
Tourism Minister Yariv Levin (Likud) blasted Airbnb's decision as "disgraceful and miserable" and demanded that the site cancel the decision.
He instructed his ministry staff to formulate immediate measures to limit the company's activity throughout the country and instructed ministry management to implement a special program to encourage tourism and accommodation in vacation apartments throughout Judea and Samaria.
Strategic Affairs Minister Gilad Erdan also condemned to decision to boycott Jewish residents of Judea and Samaria.
"This is an unfortunate decision that constitutes submission to the anti-Semitic BDS organizations and is based on political considerations rather than business considerations," said Erdan.
The Yesha Council blasted the decision as well, accusing Airbnb of becoming "a political site".
The decision "is the result of either anti-Semitism or capitulation to terrorism, or both", the council said.