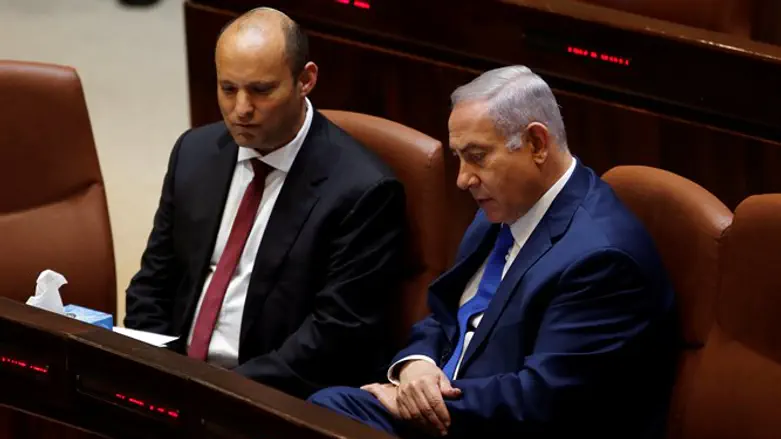 Bennett and Netanyahu
Reuters
Prime Minister Netanyahu's office said on Sunday that Netanyahu would be willing to give Education Minister Naftali Bennett the defense portfolio in place of outgoing Minister Avigdor Liberman, Channel 2 reported.

However, the assumption in the political establishment is that the transfer of the defense portfolio to Bennett will be contingent on a commitment on the part of him and his party to remain in the government until the end of this term, in November 2019.
This morning, Justice Minister Ayelet Shaked referred to her party's demand to place the defense portfolio in the hands of Minister Naftali Bennett as a condition for the continued existence of the government.
"At this stage, the government is no longer a right-wing government, unfortunately," Shaked said, explaining that "What was to be done (appointing judges, changing the approach in the state's positions in the Supreme Court, the Regulation Law, Ariel University, dismantling the Council for Higher Education, and many other things) - we have already done."
On the other hand, she continued, "What still needs to be done (the Override Clause, the removal of infiltrators, the evacuation of Khan al-Ahmar, bringing back deterrence, the prevention of terrorist funds) - it is already clear that it will not be done under this government."
"The only justification for the continued existence of the government until November 2019 is that Bennett will revolutionize security, restore Israel's deterrence that was lost under Liberman over the past two years, and help to break free of the deep crisis in trust in security. Without this, this government is called 'right-wing' but in practice fulfills left-wing policy," Shaked said.