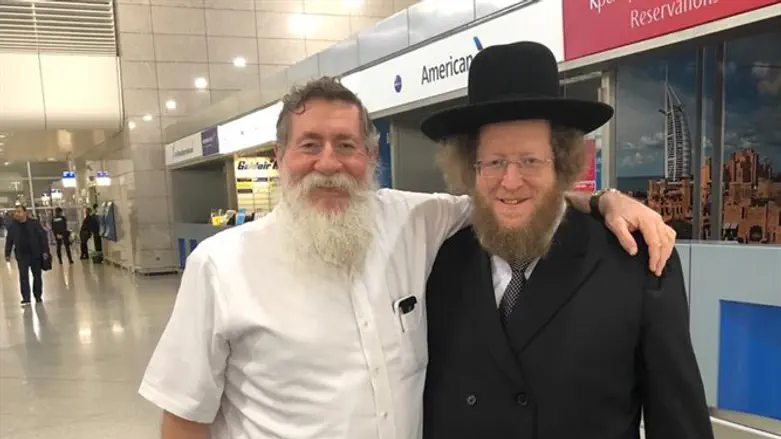 Yaakov Katz in Athens
Uncredited
Former National Union lawmaker and Arutz Sheva Group Chairman Yaakov 'Ketzale' Katz denied reports that haredim became violent on an El Al flight that landed on Shabbat.
According to Channel 2, a group of haredim began to riot on the flight to Israel on Friday after it became clear that they would not arrive before Shabbat began. The haredim allegedly pushed flight crew, cursed stewardesses, and threatened to forcibly break into the cockpit.
"In midst of my deep sleep I heard shouts of 'liars, cheaters,' and raised fists and the shouts at the flight attendants who burst into tears," recounted an eyewitness.
The reports were dismissed by Katz, who had been a passenger on the plane. In an interview with Arutz Sheva, the former legislator said that while there had been stress and drama, no haredim were rioting or pushing the flight crew.
"Everything is lies," said Katz. "The captain lied the entire way and said untrue things. He said that we were soon leaving, that we would land before Shabbat, he said that he was returning to the gate but instead of returning to the gate he went and took off."
As Katz put it, religious passengers began to get angry after they were told while in the air that the CEO of El Al ordered the plane to be diverted to Athens.
The allegations were also denied by Israel Hayom haredi affairs correspondent Yehudah Shlezinger. Writing on Facebook, Shlezinger, who was on the flight, said that El Al lied to the passengers and that the flight had only taken off due to the flight crew having arrived late.
"They sat us on the plane and each time they told lies, 'The flight attendants are already here,' 'We're leaving,' 'We're first in line,' 'We're on the fast lane'" he wrote. "Three hours on the plane, lots of lies. Passengers who wanted to go down were refused, and the captain promised unequivocally: 'we will arrive an hour or half an hour before Shabbat.'
"Two hours before the landing, the captain announces that the religious to be removed in Athens, the secular will continue. Both sides were angry, both secular and haredi. They lied to us. Brazenly and without being confused."
"No passengers were beaten. None were threatened. They did not burst into the cockpit. They asked for answers," added Shlezinger, who promised to share videos of the incident.
Two El Al flights that took off from JFK airport in New York were diverted to destinations in Europe instead of Ben Gurion Airport on Friday in order to prevent religious and haredi travelers from arriving late to Israel and thus desecrating Shabbat.
Flight LY008 was supposed to have landed at 3:00 p.m. in Rome, but after permission was granted by Chief Sephardic Rabbi Yitzchak Yosef, it landed in Israel at 5:00 p.m., about an hour after Shabbat began due to a sick patient on board.
The flight landed in Israel despite the fact that 230 rooms were ordered in a hotel in Rome, including kosher food funded by El Al. An ambulance was waiting at the airport in Tel Aviv to evacuate the patient to the hospital.
The second flight, LY002, was diverted to Athens and landed there. The Shabbat-observing passengers on that flight were directed to local hotels and to the Jewish community in the city.