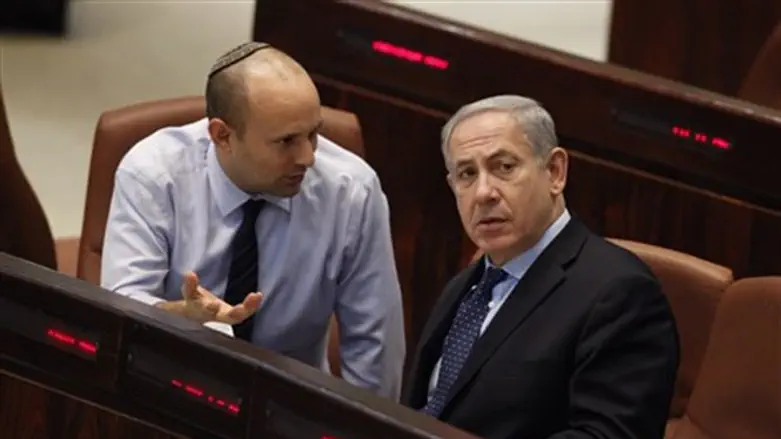 Bennett and Netanyahu
Flash 90
The Jewish Home faction held a meeting this evening, Wednesday, during which it decided unanimously to demand the Defense Portfolio in order "to change security policy and bring initiative and deterrence back to Israel."
The decision comes in the wake of Avigdor Liberman's announcement earlier on Wednesday that he is resigning from the position of defense minister.
In a statement, the faction said that "A government without deterrence is not a right-wing government."
"Without taking responsibility over the national mission of changing the security situation together with the prime minister, there is no point in the continued existence of the government."
The faction said that it had "authorized the party chairman [Naftali Bennett] to make every decision on the matter."
The Prime Minister has so far not met with Bennett over the continued existence of the coalition in its present form. However, he did meet with heads of the UTJ faction, Deputy Minister Yaakov Litzman and MK Moshe Gafni, and Chairman of Kulanu, Finance Minister Moshe Kahlon.
The prime minister told the three that, at this time, he is not interested in having early elections, but weighed different possibilities with them for holding elections in March or May.