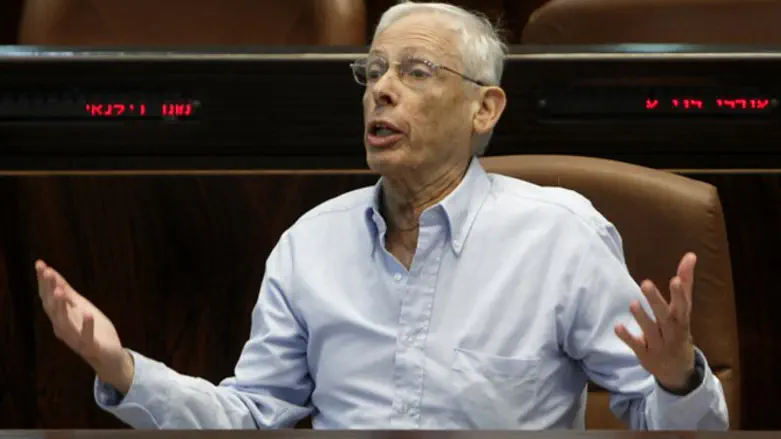 MK Benny Begin
Flash 90
Likud MK Benny Begin participated in Wednesday morning's Knesset committee discussion on a proposal to make it easier for courts to apply the for terrorists, criticizing the legislation as "harmful and foolish".
In a Knesset meeting this morning MK Benny Begin says he stands by his opposition to the death penalty, as he had 30 years ago when he first started at the Knesset.
Under Israeli law, for the death penalty to be implemented it needs to be a case of high treason or specific circumstances that fall under martial law. It would also require a unanimous decision in panel of three judges. In the seventy years of Israeli sovereignty, there has only been one case of the death penalty being carried out. The solo case was in 1962, that of Nazi SS Officer Adolf Eichmann. During the Holocaust, Eichmann was one of those behind the final solution to annihilate the Jews. His job in the master plan was to facilitate the transportation of Jews from all over Europe to the death camps.
A bill for the death penalty passed its first hearing in the Knesset back in January of this year. The proposed bill would only require a simple majority of judges to condemn a terrorist convicted of murder to death.
MK Begin expressed his opposition to the law and attacked Justice Minister Ayelet Shaked, "What is a coalition agreement if it did not pass a ministerial committee?" speaking of the coalition proposed by Yisrael Beytenu Chairman Robert Ilatov. In 2017, Ilatov requested in a letter that the coalition, including the Likud pass the bill.
MK Begin continued by saying, "there was a decision to establish a committee in the government to discuss the bill. This procedure is very strange and I do not remember anything like it. I am saddened that my colleagues Ilatov and Forer [both part of the Yisrael Beytenu Party] made such a proposal, while binding them in a foolish comparison to the conditions that prevailed here 75 years ago, to the conditions of today in a sovereign state that are completely different. The expressions of the will of the people or the sovereign are not new, and of those who are fond of their use is the Minister of Justice. The will of the people is expressed in the election, the election of the Knesset and those who trust the government are the Knesset and the general public."
"Thirty years since I came to the Knesset, I was apposed to this law [then], and that will not change my mind. Maybe the situation today will reverse yet again, and the will of the people will change- that is a harmful and foolish proposal and I will vote against it."
Begin is the son of Menachem Begin, Israel's sixth prime minister and leader of the Zionist paramilitary group, the Irgun, before the state's re-establishment in 1948.