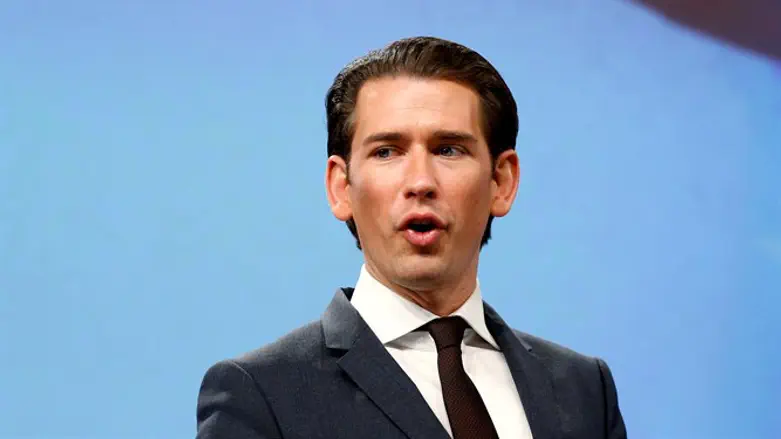 Sebastian Kurz
Reuters
Austrian Chancellor Sebastian Kurz on Monday condemned the ongoing rocket attacks from Gaza onto Israeli territory and stressed his country's commitment to Israel.
"Rocket attacks against Israel and its civilian population are certainly not the way to solve any of Gaza's problems and must stop immediately. It is of paramount importance that civilians are protected and violence is immediately stopped. Austria is fully committed to Israel's security," tweeted Kurz.
The Austrian Chancellor has shown support for Israel and for Jews, having pledged to make "combating anti-Semitism in all its forms" a top priority.
He recently stressed that the need for Israel's security is an "Austrian interest".
Also on Monday, Emanuele Giaufret, the EU Ambassador to Israel, similarly condemned the rocket fire and called for restraint.
"Following with great concern the situation and the indiscriminate firing of rockets towards the south of Israel. Attacks on civilians are unacceptable and need to stop. Everyone must step back from the brink," he tweeted.
Nickolay Mladenov, the UN envoy to the Middle East, called for an end to the violence.
"UN is working closely with Egypt and all concerned to ensure that Gaza steps back from the brink. The escalation in the past 24hrs is EXTREMELY dangerous and reckless. Rockets must STOP, restraint must be shown by all! No effort must be spared to reverse the spiral of violence," he wrote.
Earlier on Monday, US Special envoy Jason Greenblatt issued a scathing condemnation of the Hamas terrorist organization after its terrorists launched hundreds of rockets at Israel.
"Terrorists in Gaza are again attacking Israel with tools of war. These rocket & mortar attacks on Israeli towns must be condemned by all. Israel is forced once again into military action to defend its citizens. We stand with Israel as it defends itself against these attacks," Greenblatt wrote.
"Hamas' activities continue to prove they don't really care about the Palestinians of Gaza & their only interest is to use them for political purposes. Even Palestinian lives seem not to matter to Hamas," he added.
"The world has grown tired of Hamas' violence and the violence of other bad actors in Gaza. This violence prevents any real help for the people of Gaza."