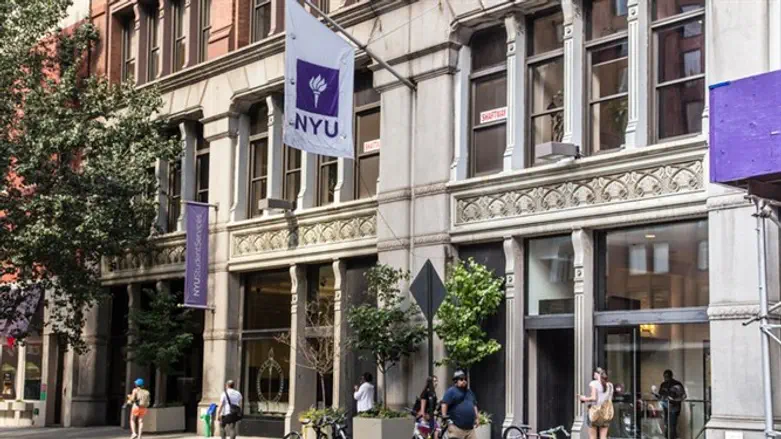 NYU
IStock
A resolution calling on New York University to divest from companies that it says are associated with mistreating Palestinians was presented to the student government.
The resolution was presented on Thursday by three student senators who are affiliated with anti-Zionist campus groups Students for Justice in Palestine and Jewish Voice for Peace. The resolution calls on the university to require General Electric, Caterpillar, and Lockheed Martin to cease their involvement "in the violation of Palestinian human rights and human rights globally," and divestment from the companies if they do not comply.
The "Resolution on the Human Rights of Palestinians" will be voted on by the student senate next month using a secret ballot, the independent student newspaper Washington Square News reported. The secret ballot is being called a "security precaution," but opponents of the resolution say it will prevent accountability by the student legislators.
Six students for and against the resolution will be allowed to speak at the meeting scheduled for Dec. 6, which is open to all NYU students. Following the public comment, a vote will be taken.
Meanwhile, late last month more than 30 student groups cosigned an open letter to NYU President Andrew Hamilton saying they would not cooperate with the NYU Tel Aviv program. The letter said that "Our participation would render us complicit in the state of Israel's targeted discrimination against activists and Palestinian and Muslim students." The letter noted that Israel is denying entry to anti-Israel activists who support BDS. Among the signatories to the letter are African Students Union, International Socialist Organization, Muslim Students Association, Pakistani Students Association, and NYU Against Fascism.
In a statement in response to the declaration, the university said "has a clear, long-standing policy opposing an academic boycott of Israel," which it says "violates the tenets of academic freedom."
"Moreover, NYU brings together students with different backgrounds and different points of view precisely so that they can interact, debate, gain understanding, and learn from one another; as such, their declaration is at odds with this principal aim of our scholarly community," the university statement said.
The statement added that: "While we disagree with Israel's policy about BDS supporters for precisely the same reasons of academic freedom and scholarly mobility that cause us to oppose academic boycotts, it is worth noting that no NYU student has been prevented from going to Israel, and a case involving a student from a different school was reversed in court."