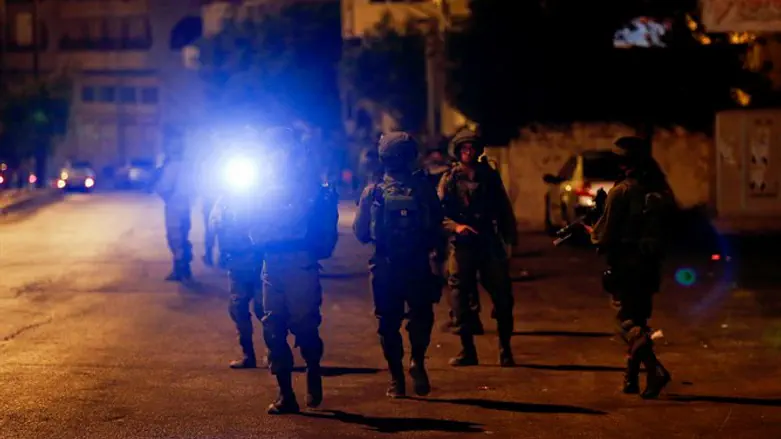 Raid (archive)
Flash 90
Israeli police and agents from the Shin Bet internal security agency raided the offices of the Palestinian Authority's governor of the Jerusalem district on Sunday, authorities said, following the alleged kidnapping by PA forces of an American citizen who facilitated the sale of Arab property in Jerusalem to Jews.
The Shin Bet confirmed on Sunday afternoon the raid in Al-Ram, just on the other side of Israel's separation wall from Jerusalem, but provided few details.
It came after Israel's detention of the Palestinian Authority's regional governor, Adnan Gheith,
on October 20. He was released two days later.
The Palestinian Authority's Jerusalem affairs minister, Adnan al-Husseini, told AFP that Israeli forces confiscated documents and material during the raid.
The same building houses his ministry and the governor's office, both of which he said were raided in the first such Israeli action.
Palestinian Authority spokesman Yusuf Mahmud denounced the raid, calling it a "dangerous
escalation of the occupation and a flagrant violation of all international laws and agreements".
Israel's Shin Bet domestic security agency said in a statement a joint raid with police and the army was over "illegal activity by the PA in Jerusalem".
It said "various materials were seized which will be examined by security bodies."
The Palestinian Authority, which under the terms of the Oslo Accords was given autonomy in the Gaza Strip and roughly 40% of Judea and Samaria, is prohibited from operating inside of Jerusalem, which has been united under Israeli sovereignty since 1967.
According to a lawyer for Gheith and a second PA official arrested recently, the two were taken into custody in connection with the abduction of an Arab man from eastern Jerusalem who helped facilitate the sale of Arab-owned property to Jews recently.
The broker, an American citizen of Arab descent who also possesses an Israeli residency card, is believed to have facilitated the sale of the Aqaba Darwish estate in the Old City of Jerusalem.
PA leaders condemned the sale, and opened an investigation into the deal earlier this month.
Under PA law, selling of land to Jews is illegal and punishable by death. However, such sentences must be approved by the PA chairman, and current chairman Mahmoud Abbas has preferred to authorize life sentences for such offenses, possibly due to fear of an international backlash.
AFP contributed to this report.