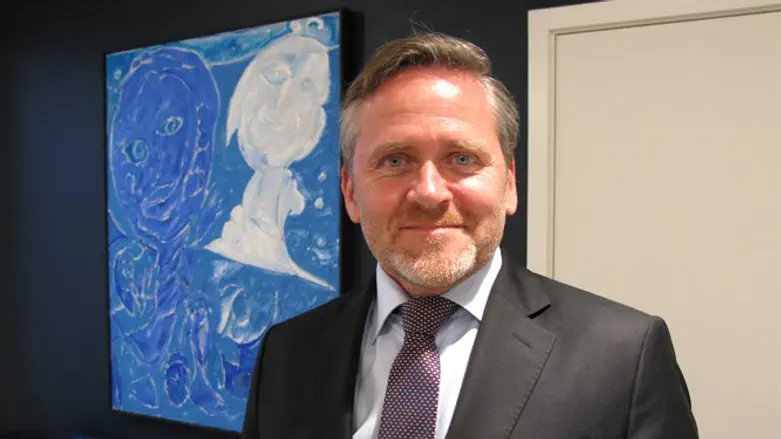 Danish Foreign Minister Anders Samuelsen
Reuters
Denmark on Tuesday recalled its ambassador to Iran after it accused Tehran of plotting a foiled "attack" against three Iranians living in the Scandinavian country, AFP reported.
"I have decided to recall Denmark's ambassador in Tehran for consultations... Denmark can in no way accept that people with ties to Iran's intelligence service plot attacks against people in Denmark," Danish Foreign Minister Anders Samuelsen was quoted as having told reporters.
"It is the Iranian government, it is the Iranian state that is behind" the plot, Samuelsen added.
He also said that he was consulting with "partners and allies", including the EU, about possible sanctions.
Earlier on Tuesday, the head of Denmark's intelligence service PET, Finn Borch Andersen, said his agency believed the Iranian intelligence service "was planning an attack in Denmark" against three Iranians suspected of belonging to the Arab Struggle Movement for the Liberation of Ahvaz.
A Norwegian of Iranian origin was arrested on October 21 for allegedly planning the attack and spying for Iran, according to the report.
The suspect was detained in the southwestern Swedish city of Goteborg.
Iran denied the Danish allegations, with foreign ministry spokesman Bahram Ghasemi saying they were part of a European conspiracy against Iran.
In late September, Tehran accused Denmark, the Netherlands and Britain of "hosting several members of the terrorist group" that Iran holds responsible for an attack in the mainly ethnic Arab city of Ahvaz in southwestern Iran.
The September 22 attack, which targeted a military parade, left 24 people dead.
The attack was claimed by the Islamic State (ISIS), but it was also claimed by a movement called the "Ahwaz National Resistance", an Arab separatist group.
ISIS had posted a video of three men who allegedly carried out the attack and later threatened to carry out new attacks in Iran, saying the Islamic Republic is "flimsier than a spider's web, and with God's help, what comes will be worse and more bitter".
Two weeks ago, Iran's Revolutionary Guards claimed they had killed the "mastermind" behind the Ahvaz attack.
The Guards said in a statement their forces had killed a man named Abu Zaha and four other jihadists in Diyala province in Iraq. One news website run by Iran's state television said Abu Zaha was a member of ISIS.
Danish Prime Minister Lars Lokke Rasmussen echoed Samuelsen's comments on Tuesday, writing on Twitter, "It is totally unacceptable that Iran or any other foreign state plans assassinations on Danish soil. Further actions against Iran will be discussed in the EU."
Iran's ambassador to Denmark was summoned to the foreign ministry Tuesday for an explanation.
US Secretary of State Mike Pompeo said the US also stood behind Denmark.
"We congratulate the government of Denmark on its arrest of an Iranian regime assassin. For nearly 40 years, Europe has been the target of Iran-sponsored terrorist attacks. We call on our allies and partners to confront the full range of Iran's threats to peace and security," Pompeo wrote on Twitter.
The incident comes amid disagreements between the US and Europe over the fate of the 2015 nuclear deal.
In May, US President Donald Trump withdrew from the 2015 nuclear deal between Iran and world powers, which he has slammed as "the worst deal ever negotiated".
Trump later signed an executive order officially reinstating US sanctions against Iran. Additional US sanctions targeting Iran's oil and shipping industries will go into effect on November 4.
The European signatories to the deal did not agree with Trump's decision to leave the deal and have been trying to save the accord, which they see as crucial to forestalling an Iranian nuclear weapon.
Last month, the European Union vowed to help Iran evade the economic sanctions imposed by the US, shielding companies doing business with the rogue state in an effort to preserve the Iran nuclear deal.