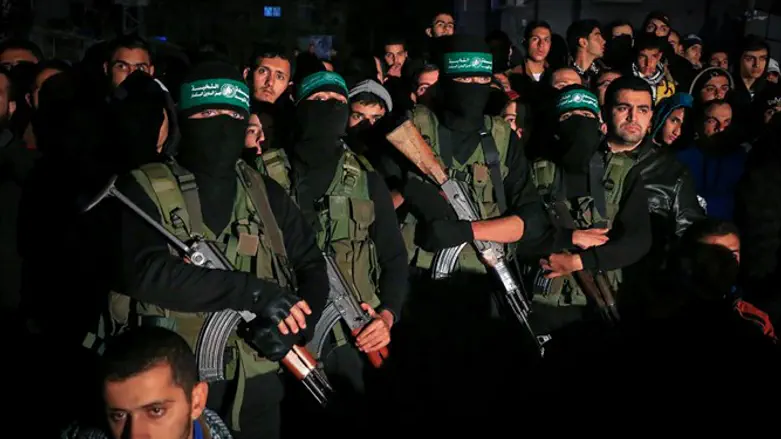 Hamas terrorists
Abed Rahim Khatib/Flash 90
The security apparatus of Hamas is claiming that it succeeded in striking a heavy blow to the Israel Security Agency (Shin Bet) in the framework of the intelligence war between Israel and Hamas.
According to the report, the Hamas security apparatus uncovered and arrested a Palestinian Arab who had worked as an intelligence agent for Israel for 15 years. The arrest took place as part of a complex counterterrorism operation during which the alleged "spy" was captured while planting a spying device.
Hamas alleged that the 45-year-old "intelligence agent", identified only by the initials M.K., was instructed by Israel to photograph the homes and military position of the leaders of Hamas, and track their vehicles. It was also reported that he had given Israel information on the capabilities of the Palestinian "resistance organizations" and their weapons storage sites.
The Hamas security apparatus said that details of the affair would soon be published based on the intelligence agent's confession during interrogations.
Hamas regularly claims to have captured "Israeli spies", and many times it tries them and sentences them to death.
In theory all execution orders in the Palestinian Authority's (PA) territories must be approved by PA chairman Mahmoud Abbas, who is based in Ramallah and who imposed a moratorium on executions several years ago.
Hamas no longer recognizes Abbas' legitimacy, and has in the past emphatically declared that the death penalty in Gaza can be carried out without his consent.
In March, the group claimed it had arrested a local man who had been working as a "spy" for Israel and who intended to convince Gazans not to take part in a violent protest march along the Gaza-Israel border.
Last April, the group hanged three men accused of collaborating with Israel in the killing of senior Hamas commander Mazen Faqha.