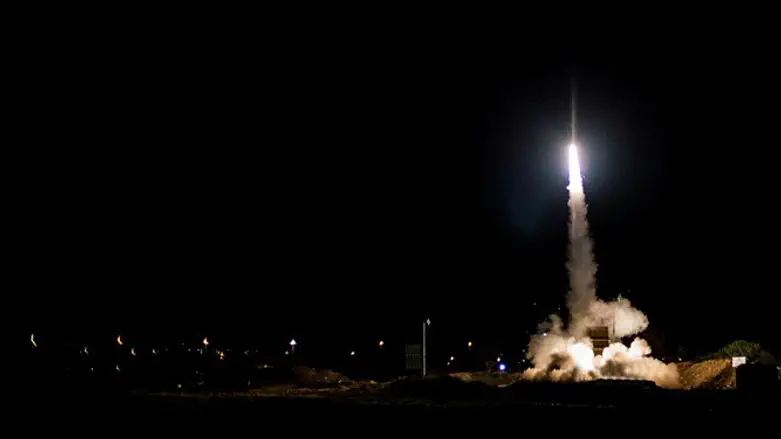 Iron Dome
Kobi Richter/TPS
"Red alert" sirens were sounded on Wednesday evening, shortly after 11:15 p.m., in the Eshkol and Merhavim Regional Councils in the Gaza envelope.
The IDF said that one launch was identified from Gaza toward Israeli territory.
The IDF's Iron Dome aerial defense system launched one interceptor towards the projectile. However, it is believed that the rocket was not intercepted and exploded in an open area. Security forces are conducting searches in the area.
There were no reports of physical injuries or damages.
Earlier on Wednesday, the Israel Air Force attacked a Hamas post in Gaza. The IDF said it had identified a terror squad launching incendiary balloons at Israel from the site.
The IDF strike came a day after Defense Minister Avigdor Liberman ordered the resumption of the supply of fuel from Israel to Gaza, which was halted following the recent escalation in events in the Gaza envelope region.
On Tuesday, Liberman spoke at an election rally in Netivot about the situation in Gaza and the region.
"Some commentators tend to adopt an erroneous conception according to which one can want and can give, and I want to remind an important, wise man who once said, 'They give - they'll get; they don't give - they won't get,'" said Liberman.
"If there's quiet, if there's calm, we know how to be neighbors. You don't give quiet and calm, you'll get what you deserve," added the Defense Minister.
Just last week, a rocket attack on Israel resulted in a rocket directly hitting a home in Be'er Sheva. A second rocket fell off the coast of Gush Dan.