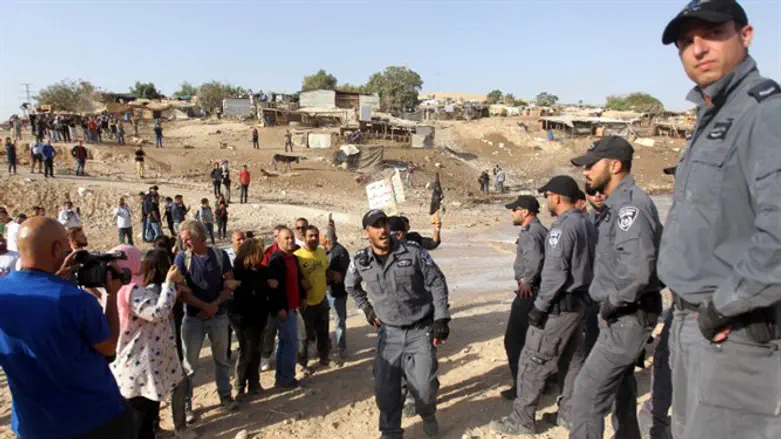 Protesters attempt to block Israeli forces in Khan al-Ahmar
Wisam Hashlamoun/Flash90
The Israeli security cabinet voted Sunday afternoon to approve Prime Minister Binyamin Netanyahu's proposal that the planned demolition of an illegal Bedouin encampment east of Jerusalem be delayed for several weeks, despite opposition from the Jewish Home faction.
The illegal community of Khan al-Ahmar, first established in the 1990s, is home to between 170 and 180 Bedouin squatters who settled on a strip of land adjacent to the Israeli town of Kfar Adumim, east of Jerusalem.
Israeli courts have repeatedly upheld demolition orders issued against the illegal community, culminating in the Supreme Court's final rejection of the residents' claims in a ruling last month.
The court gave a green light to Israeli security forces to evict the squatters and demolish Khan al-Ahmar, which was built with no permits or authorization of any kind.
Nevertheless, the United Nations, European Union, and International Criminal Court (ICC) have demanded Israel refrain from implementing the demolition orders, urging authorities to normalize Khan al-Ahmar's status.
Last week, the ICC chief prosecutor warned Israel that the demolition could be construed as a war crime.
On Saturday, sources in the Prime Minister's Office said that the government is holding off on demolishing Khan Al-Ahmar in order to "exhaust negotiations and proposals received from various sources, including some in the past few days."
A day later, Netanyahu stated that his government still planned to evacuate Khan al-Ahmar, but proposed delaying the eviction by several weeks.
During a meeting of the security cabinet Sunday afternoon, Jewish Home ministers Naftali Bennett and Ayelet Shaked expressed their opposition to the proposed delay, urging the government to immediately implement the court order against Khan al-Ahmar.
Despite the Jewish Home's opposition, however, the cabinet approved Netanyahu's proposal, reaffirming its plans to demolish the illegal encampment – but only after a delay of several weeks.
"The cabinet has come to a decision regarding the evacuation of Khan al-Ahmar," the cabinet said in a statement.
"In accordance with recommendations given by expert officials, the cabinet has approved a several-week extension for efforts to reach an agreement for a voluntary evacuation."
No specific timeframe was given for the demolition of the encampment.
Reports from the meeting indicate that Ministers Bennett and Shaked opposed the proposal, while the remaining cabinet members voted in favor of it.