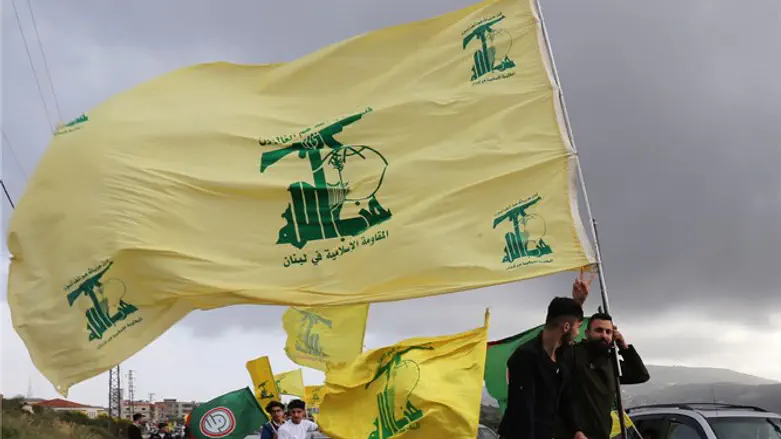 Hezbollah supporters
Reuters
American and western intelligence sources believe Iran has been increasing its shipments of advanced weaponry to Hezbollah, and that the deliveries now include Global Positioning System (GPS) components to make previously unguided rockets into precision guided-missiles, increasing the threat to Israel, Fox News reported on Friday.
One of the Iranian flights arrived in Lebanon three days ago, officials told the news channel.
Iran's Fars Air Qeshm flight number QFZ-9950 departed Tehran International Airport on Tuesday at 9:33 a.m. local time, and flew to an unknown destination, according to flight data obtained by Fox News.
Later in the day, the Boeing 747 jet touched down in Syria's capital Damascus before continuing on to Beirut, arriving just past 2:00 p.m., according to the flight tracker software.
On Wednesday evening, the Iranian cargo plane departed Beirut for Doha, Qatar arriving just after midnight local time, and returned to Iran's capital Thursday at 6:31 p.m.
Western intelligence sources said the Iranian cargo plane carried weapons components, including GPS devices to make precision-guided weapons in Iranian factories inside Lebanon.
The United States and Israel, as well as other western intelligence agencies, have offered evidence that Iran has operated similar weapons factories in Syria and Yemen, in addition to Lebanon.
The report comes just over a month after it was exposed that Fars Air Qeshm had smuggled arms into Lebanon, destined for Hezbollah and Iranian weapons factories.
A week before that, new satellite images were revealed showing that Iran is building a missile factory at Wadi Ghanam near Masyaf, Syria.
Last month, at his address at the UN General Assembly in New York, Prime Minister Binyamin Netanyahu shared photos of what he said were three Hezbollah "secret sites" near Beirut's international airport, locations where the GPS components from Tehran were being assembled to turn the rockets into precision-guided missiles capable of striking deep inside Israel "within an accuracy of 10 meters (11 yards)."
The IDF later published a video and pictures of the sites in question.
Hezbollah leader Hassan Nasrallah responded with ambiguity to Netanyahu's revelation, saying only that "we should not help the enemy in its psychological war against our country, people and government."
Nasrallah's deputy, Naim Qassem, had previously said that Netanyahu's speech at the UN General Assembly neither interests nor threatens the terror group.
"We are not interested in or threatened by Netanyahu's unsuccessful show," Qassem said, adding, "We are fully prepared to deal with the Israeli aggression if it happens, even though we do not expect it, and it does not affect the hard work we put in to improve our preparedness and our weaponry."
Iran's Fars Air Qeshm airline has long been accused of flying arms for the Islamic Revolutionary Guard Corps (IRGC) and the elite Quds force led by Iranian Gen. Qassem Soleimani, noted Fox News. Last year, the Trump administration imposed sanctions on the IRGC and Quds force.
The Iranian airline ceased operations in 2013, citing poor management, but restarted under new management in March 2017. It is said to have two Boeing 747s in its fleet. Among the company's new management are three current IRGC officials: Ali Naghi Gol Parsta, Hamid Reza Pahlvani and Gholamreza Qhasemi.
(Arutz Sheva's North American desk is keeping you updated until the start of Shabbat in New York. The time posted automatically on all Arutz Sheva articles, however, is Israeli time.)