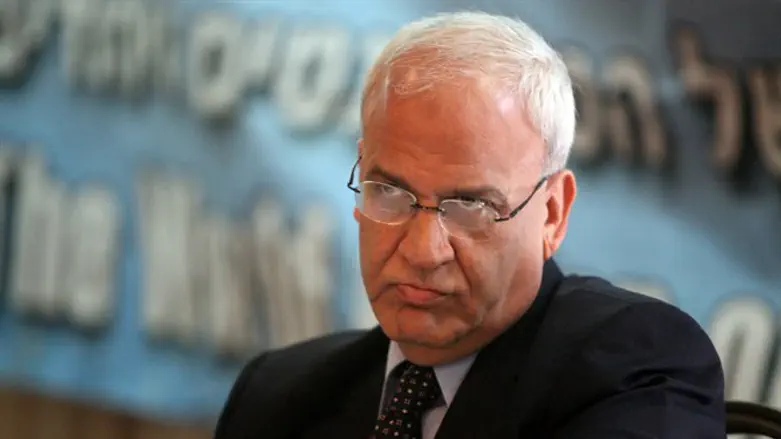 Saeb Erekat
Flash 90
The Palestinian Authority condemned the Trump administration over its decision Thursday to close a consulate facility in eastern Jerusalem, and incorporate its functions into the new Jerusalem embassy, which was inaugurated earlier this year.
Earlier on Thursday, United States Secretary of State Mike Pompeo announced that US would be shuttering a Jerusalem consulate facility in eastern Jerusalem, and would incorporate the services provided there in the US embassy on Agron Street.
While the consulate facility slated for closure had served as the de facto US mission to the Palestinian Authority, primarily serving Jerusalem Arabs and residents of the PA, Pompeo emphasized that the closure did not signify a change in US policy vis-à-vis final status issues including the boundaries of Jerusalem.
The move, Pompeo said, "does not signal a change of U.S. policy on Jerusalem, the West Bank, or the Gaza Strip," but rather is driven by "our global efforts to improve the efficiency and effectiveness of our operations."
"The United States continues to take no position on final status issues, including boundaries or borders. The specific boundaries of Israeli sovereignty in Jerusalem are subject to final status negotiations between the parties."
Despite Pompeo's claim, the Palestinian Authority quickly denounced the decision, calling it a "reward" for Israeli policy which undermines the "international system" and traditional "foundations of American foreign policy."
"The US decision... has nothing to do with 'efficiency' and a lot to do with pleasing an ideological US team that is willing to disband the foundations of American foreign policy, and of the international system, in order to reward Israeli violations and crimes," said PA negotiator Saeb Erekat.
"The Trump administration is part of the problem, not part of the solution."
Israeli leaders, on the other hand, praised the Trump administration for the move, with former Israeli ambassador to the United States Michael Oren (Kulanu) declaring it a "great day" for the two allies.
"A great day for Israel, Jerusalem, and the United States. SoS Pompeo's announcement closing the U.S. consulate in Jerusalem and transferring its responsibilities to the embassy ends the last vestige of American support for the city's division. Israel is deeply grateful," Oren tweeted.