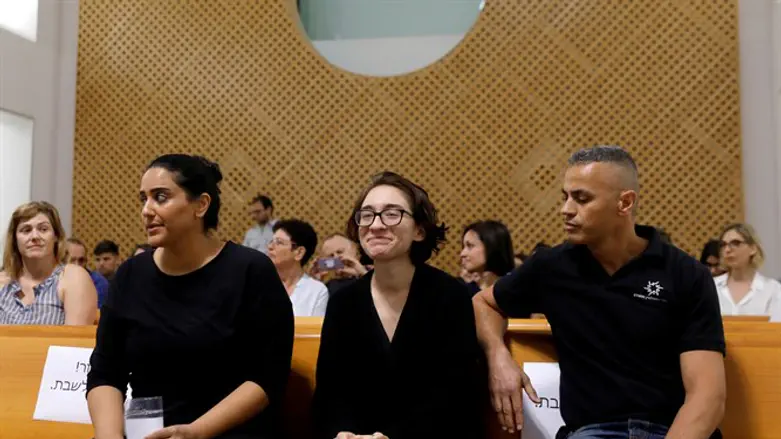 Lara Alqasem in Supreme Court
REUTERS
Interior Minister Aryeh Deri slammed the Supreme Court's ruling on Thursday permitting BDS activist Lara Alqasem to study in Hebrew University.
"The decision to leave the student who openly acts against the State of Israel in Israel is shameful," said Deri. "Where is our national honor, even in the US, would it dare to act against the state and demand that we stay and study there? I will examine how to prevent such a recurrence. "
Minister of Public Security Gilad Erdan (Likud) said in response that "the Supreme Court granted a great victory to BDS this evening and emptied the law to prevent the entry of BDS activists. I am deeply saddened by the Supreme Court's decision, which attests to a complete lack of understanding of the methods of action of the BDS organizations, and has undermined the ability of the State of Israel to fight the boycott activists who harm us all."
"According to the judgment and logic of the justices, Omar Barghouti, the founder of the world BDS movement who studied at Tel Aviv University and is currently spreading hatred worldwide against Israel, was supposed to become an enthusiastic supporter of Israel due to his studies in an Israeli academic institution," continued Erdan.
"The principle must be preserved: anyone who acts to harm Israel and its citizens should not enter its gates."
MK Betzalel Smotrich also attacked the High Court following the ruling. "The Supreme Court insists on proving that the justice minister was right when she claimed that Zionism is it's dead zone, and again trampled on the authority of the government and intervened in its discretion," said Smotrich.
The court ruled Thursday evening against the state's position that Alqasem is prohibited from entering the country under Israel's anti-BDS law, which bars non-citizen supporters of the Boycott, Divestment and Sanctions movement from visiting Israel.
Alqasem, 22, had served as the chapter president of the anti-Israel group Students for Justice in Palestine (SJP) during her undergraduate studies at the University of Florida. SJP is known for its staunch support of the BDS movement.
Following her graduation from the University of Florida, Alqasem applied for and received a student visa from Israel, enabling her to take part in a master's degree program at the Hebrew University in Jerusalem.
Upon her arrival in Israel on October 2nd, however, Alqasem was detained by border control authorities, who barred her entry under Israel's anti-BDS law.