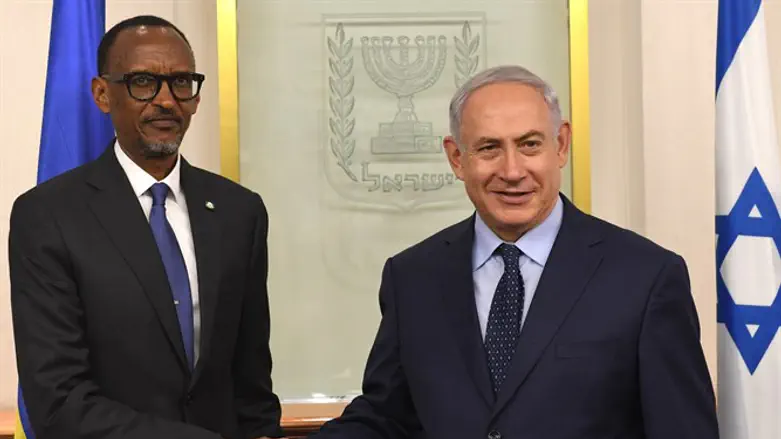 Prime Minister Binyamin Netanyahu meets with President of Rwanda Paul Kagame
Flash 90
Israel's foreign ministry will open an embassy in the central African state of Rwanda, Israel Hayom reported Sunday night.
While Israel and Rwanda have maintained diplomatic ties for years, the Israeli foreign ministry has hitherto not established an embassy in Rwanda, and has relied on the Israeli embassy in Ethiopia.
The new embassy is expected to be opened in 2019 in the Rwandan capital city of Kigali
Rwanda currently has an embassy in Israel, located in the coastal city of Tel Aviv.
The move constitutes the fulfillment of Prime Minister Binyamin Netanyahu's promise to the Rwandan government in 2017 to open a full embassy in Kigali.
Deputy Minister in the Prime Minister's Office and former Israeli Ambassador to the United States MK Michael Oren (Kulanu) praised Netanyahu for the embassy plan.
"Congratulations to Prime Minister Netanyahu for his diplomatic accomplishments, thanks to which Israel will be opening its first embassy in Rwanda," Oren tweeted.
"I bless the State of Israel that it will deepen its ties with Africa, and I congratulate Rwanda, which is getting the most reliable ally in the Middle East."