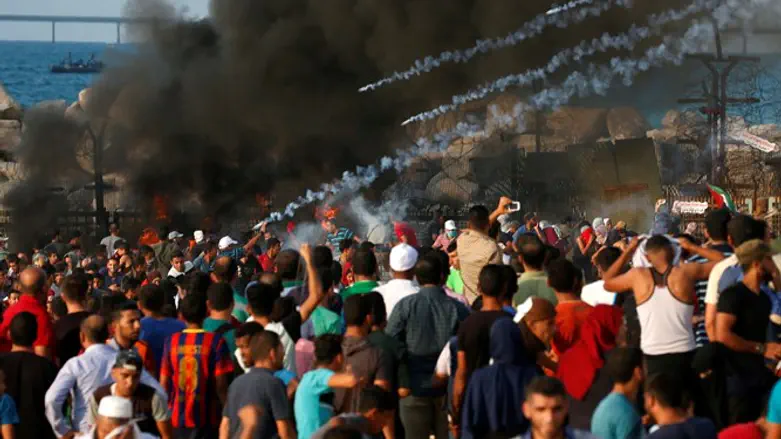 Riots yesterday on Gaza border
Reuters
On Tuesday afternoon, IDF Spokesperson Ronen Manlis addressed the riots that took place last night in the Gaza Strip, during which thousands of Palestinian Arabs damaged and set fire to the security fence along the Gaza Strip.

The rioters threw explosives and spray grenades, burned tires and threw stones at IDF soldiers.

In addition, one of the rioters crossed into Israel for a short period of time, setting fire to an abandoned military position near the fence. There were no casualties and only a camouflage net was damaged.
In the course of the violent riots, soldiers acted to prevent widespread infiltration into the country.

The IDF spokesman addressed claims that the riots were hidden from the public and from the media. "The incident was controlled by observation and fire from start to finish and at no point did it get out of hand," the IDF spokesman said. "The fighters hit dozens of rioters using riot control means and shooting at rioters in accordance with open-fire regulations."

"IDF forces will continue to act to ensure the security of the residents of the area in the face of various terrorist attempts, as they do all the time," added Brigadier General Manelis said.