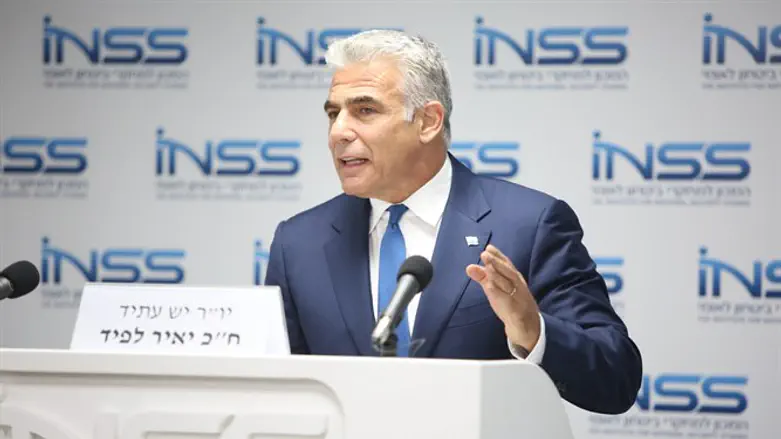 Yair Lapid at INSS
Chen Galili
Yesh Atid chairman MK Yair Lapid participated on Monday evening at a conference organized by the Institute for National Security Studies (INSS) in Tel Aviv.
During the conference, the INSS presented its Israel-Palestinian Authority (PA) peace plan, which Lapid discussed in his remarks. He also discussed his own peace plan and the necessary methods of action on the Palestinian issue.
He made it clear that he favors separation from the Palestinians, under clear conditions that assure Israel's security.
"Israel's security will remain in its hands. I do not trust the Palestinians, and therefore Israel will have full military capability in all areas of the future Palestinian state. Those responsible for the safety of the citizens of Israel will be the IDF and only the IDF, not foreign forces, certainly not the Palestinians. The ones who will make sure that a Hamas state is not established on the other side of the wall will be the IDF and only the IDF," Lapid declared.
Discussing his outline for a diplomatic solution, Lapid said it would be a temporary arrangement with a Palestinian state that would not include Jerusalem or the "right of return" and would meet Israeli security needs.
"In these negotiations, if I hold them, Israel is not going to give up on the two major core issues - Jerusalem and the right of return. It is also not going to give up on the ability to operate in the entire area west of the Jordan River. This is the minimum that every responsible Israeli leader must demand. In the face of such initial requirements, it is preferable that we have a maximum of assets, not that we transfer them now to the Palestinians for nothing," he said.
He also discussed the issue of Jerusalem and explained his resolute position, saying, "I oppose any action that means the division of Jerusalem. This is first and foremost ideological - in my opinion, a people cannot give up its founding ethos. The debate about the division of Jerusalem sends a message of weakness and lack of commitment to our identity. This is the Jerusalem of King David. It is the center of Jewish existence. It is why we live here and not in Manhattan."