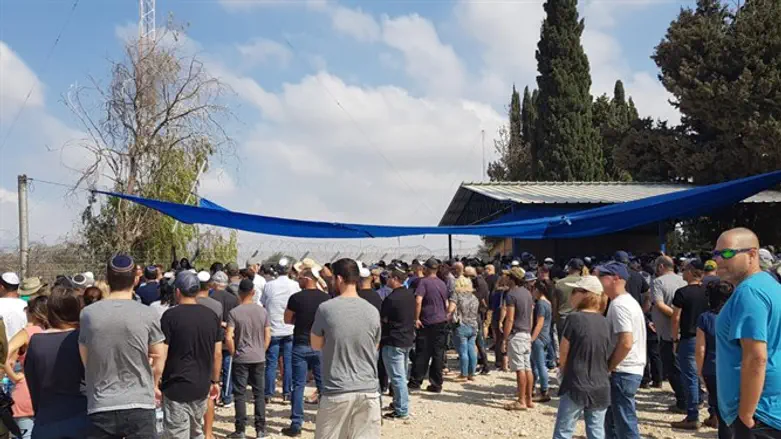 Ziv Hajbi is laid to rest
Yoni Kempinski
Ziv Hajbi, who was murdered Sunday in a shooting attack at the Barkan industrial zone, is now being laid to rest.
Hajbi, a resident of Rishon Letzion, will be buried at Moshav Nir Israel in the south. Hundreds of friends, family and people from all over the country came to pay their respects.
The media will not be photographing the eulogies at the request of Hajbi's family.
Among the mourners were the family of Kim Levengrond-Yehezkel, who was the other victim from Sunday's attack.
"Ziv, brother, I do not know how to begin to describe what you were like to us as a brother, how many eyes were always on you, the good brother, I would consult with you, " said his brother Itai.
"I can not imagine how to start living without you. Even though I'm standing here, we love you, Ziv, always, how much joy and love you give, laughter and music ... and the conversations ... It's not a hard day, it's very hard and very sad."
Hajbi's other brother Or, who had arrived from the US for the funeral, said tearfully that "I stand here crying, but the words do not come out. I want so much to wake up from this nightmare and I cannot. I did not ask to be part of the bereaved family, I don't want it."
"We planned a bonding evening for us brothers and this isn't the kind of bonding I wanted," continued Or. "On the cursed flight I had a dream about you now, I did not want to wake up. When we landed at the airport, you were not there! I've been looking for you! You were not there! Where you? How do we proceed from here?"
"I do not believe I'm in this situation, I do not believe I'm in this movie, I do not know how to deal with it, I do not know what to do in situations like this," said Iris, Ziv's mother, "You do not know how much they came to pay you last respects, your father is standing next to me and he cannot talk, I love you and you are already missing to me,
Hajbi's widow Natalie was the final one to eulogize her murdered husband. "We were together 18 years, the love of my life, my first and last love in the world ... I can not say 'Take care of us from above' because you are here. But help me," said Natalie.
"The love of my life, from the age of 17 and a half we are together. My Ziv, I love you, forever."