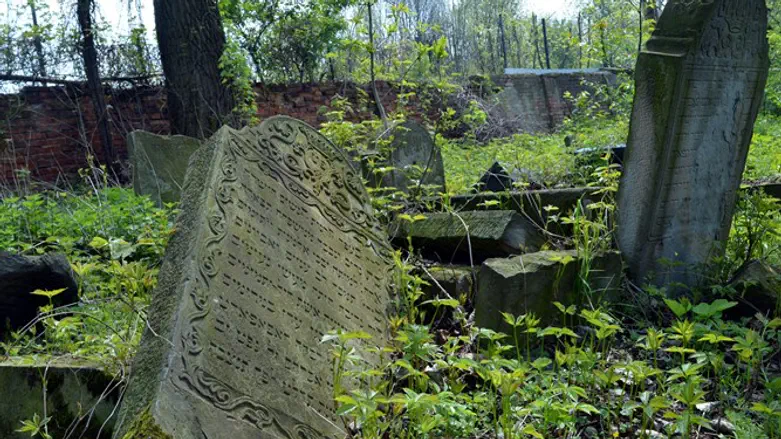 Abandoned Jewish cemetery in Poland (illustrative)
Flash 90
An exhibition highlighting the destruction of Jewish cemeteries in Poland opened in that country's parliament.
A group of non-Jewish activists called Currently Absent launched the exhibition bearing the same title on Tuesday at the Sejm, the Polish parliament, where it was hosted by Speaker Marek Kuchcinski of the ruling Law and Justice party.
It features photographs of 10 out of 31 destroyed and re-purposed Jewish cemeteries in Poland that the group has documented, including ones that today function as shooting ranges, factories, children's playgrounds and a swimming pool.
"This is an important project, we are honored to host in the Sejm," Kuchciński said at the opening.
The exhibition by Currently Absent opened amid a debate in Poland over protests by Jewish groups on cemetery desecration. The group photographed translucent plastic slabs shaped like headstones, complete with Hebrew-language epitaphs, at sites that used to be Jewish cemeteries, resulting in eerie, ghost-like visuals that recall the locale's history.
Last month, the World Zionist Organization strongly protested what it said was the destruction of a Jewish cemetery in the town of Klimontow, near Krakow, during the construction of a sports complex being funded by the state. The complex, comprising a basketball and soccer court, was inaugurated on Sept. 6 at a ribbon-cutting ceremony, according to the municipality's website. It said the project has received more than $90,000 in government funding.
Separately, haredi followers of the Modzitz Hasidic dynasty, which is based in Israel, are fighting for access to the recently renovated courtyard of a school in Kazimierz Dolny, in eastern Poland, where they say their movement's founder is buried.
The construction on what they say is the final resting place of Rabbi Yehezkel of Kuzhmir and others desecrated many Jewish graves, the movement's followers have said.
Some 20,000 Jews are now living in Poland, which had 3.3 million Jews before the Holocaust.
Several groups are working to preserve Jewish cemeteries in Poland, including the Union of Jewish Communities in Poland, the European Jewish Cemeteries Initiative and From the Depths.