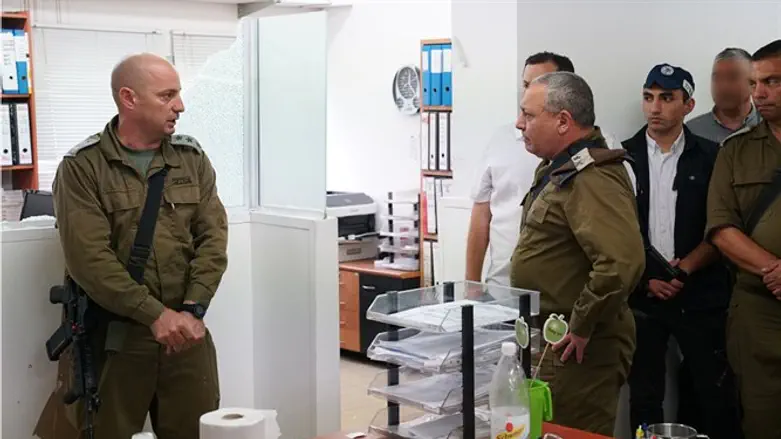 IDF Chief of Staff at Barkan
IDF Spokesperson
Chief of Staff Lt. Gen. Gadi Eizenkot arrived Sunday at the scene of the attack in the Barkan industrial zone, where a terrorist shot and murdered Kim Levengrond-Yehezkel, from Rosh Ha'ayin and Ziv Hajbi, 35, of Rishon Letzion.
Eizenkot held an assessment of the situation with the participation of the Commander of the Central Command, Maj. Gen. Nadav Padan, Coordinator of Activities in the Territories, Maj. Gen. Kamil Abu Rokun, Commander of the Judea and Samaria Division, Brigadier General Eran Niv and the Head of the Civil Administration, Brigadier General Ben Hur.
Commander of the Ephraim Regional Brigade, Colonel Idan Katz, reviewed the main points of the incident and the operational efforts to locate the terrorist who escaped from the scene of the attack.
The chief of staff instructed the reinforcement of the forces and the various defense efforts, as well as the continued intensive activity to locate and capture the terrorist.
The IDF stated that "this is a serious terrorist incident that took place alongside a strong campaign to prevent terror in Judea and Samaria, in which thousands of offensive operations are held to locate weapons, arrest suspects and confiscate terrorist funds."
The commander of the Central Command, Major General Nadav Padan, said, "After the terrorist attack in an industrial zone in Barkan, we lost two Israeli civilians and another civilian was injured. First of all, I would like to convey my condolences to the families and to wish a speedy recovery to the injured woman. We have been in recent months and in recent years in a continuous struggle against terror in Judea, Samaria and Gaza. The struggle includes day-to-day operations and hundreds of soldiers carrying out arrests and assassinations."
"Only in recent months have we stopped over 300 weapons in Judea and Samaria and over 100 in the past month. This is the night work of the entire defense establishment - the Israel Security Agency, the Israel Police, and the IDF. At this moment, the army, the Shin Bet and the Israel Police are hunting down the terrorist, and like other terrorists, we will know how to put our hands on him and to destroy this hand of terror that harms us indiscriminately," Padan added.