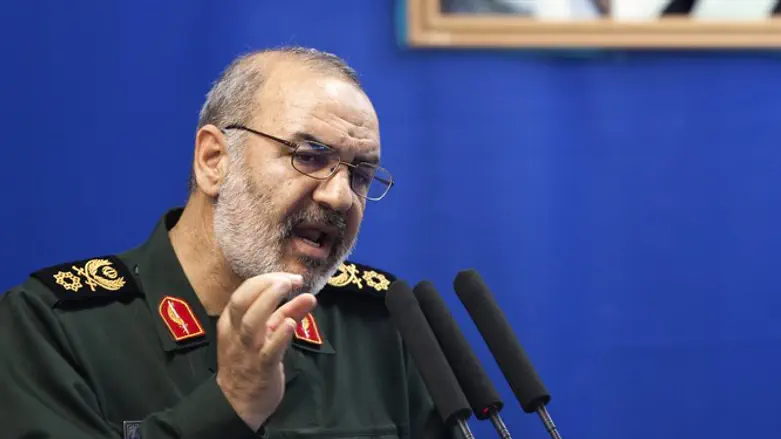 Hossein Salami
Reuters
The deputy commander of Iran's Revolutionary Guards warned Prime Minister Binyamin Netanyahu on Friday to "practice swimming in the Mediterranean" because he would be forced to abandon his country.
"I tell the prime minister of the Zionist regime to practice swimming in the Mediterranean because soon you will have no choice, but flee into the sea," said Brigadier-General Hossein Salami said, who was quoted by AFP.
Salami, who was speaking at a rally of the volunteer Basij militia in the central Iranian city of Isfahan, threatened that Israel could be destroyed by Hezbollah, Iran's proxy in Lebanon.
"They are not at the level of being a threat for us, Hezbollah is enough for destroying them," he said.
Iran does not recognize Israel, and opposition to the Jewish state has been a central tenet of its government since the 1979 revolution.
Iranian officials regularly threaten Israel, including Salami, who earlier this year warned the Jewish state that its military bases were within reach.
"Don't trust in your airbases; they're within reach. Don't have hope in the U.S. and the UK," he said in April.
"Wherever you are in the occupied land, you'll be under fire from us, from east and west. You became arrogant. If there's a war, the result will be your complete elimination. Your soldiers and civilians will flee, and you won't survive. And you'll have nowhere to run, except to fall into the sea," added Salami.
Most of the threats against Israel come from Iran's Supreme Leader, Ayatollah Ali Khamenei. In June, Khamenei launched a Twitter tirade against Israel, saying that "the Zionist regime will perish in the not-so-far future."
Earlier that month, he called Israel "a malignant cancerous tumor in the West Asian region that has to be removed and eradicated". Khamenei also attacked Prime Minister Binyamin Netanyahu and branded him a "child killer".
The Supreme Leader has several times in the past referred to the Jewish state as a "cancer" and threatened to "annihilate" the cities of Tel Aviv and Haifa.
(Arutz Sheva's North American desk is keeping you updated until the start of Shabbat in New York. The time posted automatically on all Arutz Sheva articles, however, is Israeli time.)