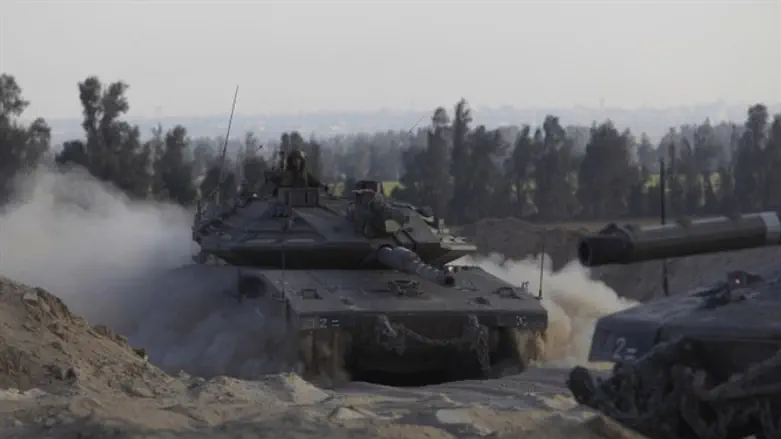 IDF tanks operating in the north
Flash 90
State Comptroller Yosef Shapira is weighing a probe of the IDF's readiness for future military conflict amid an escalating spat that has reached the highest levels of Israel's defense establishment.
According to Haaretz, Shapira has ordered the IDF to transfer a report it has compiled examining its readiness for war. After reviewing the document, Shapira will decide if he will launch a probe of his own.
The State Comptroller is legally manded to open independent investigations at his discretion. He is also authorized to command state bodies to address shortcomings and to issue reports documenting the progress in treating issues previous reports had found.
The report comes amid a debate between IDF Ombudsman Gen. (res.) Yitzhak Brik regarding the IDF's preparedness and readiness for war.
Brik has been releasing increasingly dire warnings about what he says is the military's depleted state. Brik, who will soon resign after 10 years in office, has called on cabinet ministers, the subcommittee of the Knesset Foreign Affairs and Defense Committee and the IDF leadership to appoint a committee to investigate the readiness of the ground forces for war.
In his most recent report, Brick says that the army's streamlining and efficiency restructuring have devastated the ground forces, detailing the lack of manpower and ammunition rife among the standing military.
"It is impossible to hold the rope on both ends," Brick wrote. "On the one hand, the tasks are increasing – and on the other there is extensive cross-cutting of manpower."
Following the report, IDF Chief of Staff Lt. Gen. Gadi Eizenkot instructed IDF Comptroller Brig. Gen. (res.) Ilan Harari to conduct an examination of issues Brick raised.
The examination will fall within reviews conducted by the IDF Comptroller in cooperation with Maj. Gen. (res.) Avi Mizrahi and other senior reservists, with transparency and cooperation of all IDF units.
The IDF Chief of Staff says that the IDF's combat readiness is high, yet considers it important to examine the claims raised in a professional and comprehensive manner, by the official auditing bodies, including the IDF.
The report's initial findings, conclusions, and recommendations will be presented to Eizenkot for review within 45 days.
However, Brick sent a letter on Thursday to Prime Minister Netanyahu and Defense Minister Avigdor Liberman contending that the panel was unable to properly probe the military.
In the missive, Brick alleged that "the IDF's condition is worse than it was at the time of the Yom Kippur War" and accused Eizenkot of trying to prevent the panel's establishment.
"In my opinion, an internal panel led by IDF Comptroller Brig. Gen. (res.) Ilan Harari , which was appointed despite the chief of staff, does not have the ability to contain the severity and complexity of the deep flaws," wrote Brick.