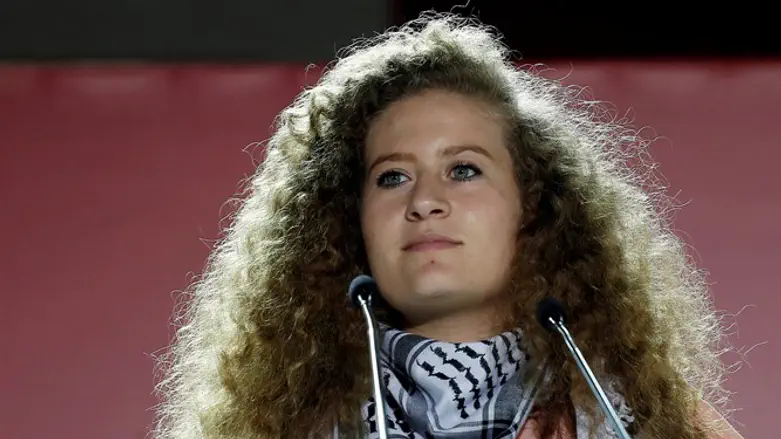 Ahed Tamimi
Reuters
Israel protested to the mayor of Madrid about the festive visit she organized for terrorist Ahed Tamimi, who was convicted of incitement against security forces and attacking IDF soldiers, for which she served eight months in prison.

Tamimi was accompanied by her family at the invitation of the city leaders and the Real Madrid soccer club at the stadium of the Spanish team, Bernabeu.

Real Madrid did not make do with a special tour with former soccer star Emilio Butragueno, but also prepared a jersey with her name printed on it.
Daniel Kutner, the Israeli ambassador to Spain, sent a letter of protest to Mayor Manuela Carmena. "The move by the Madrid municipality encourages violence against Israeli civilians and undermines any attempt to create a genuine dialogue between Israel and the Palestinians," Kutner wrote.

Kutner added, "Ahed Tamimi is not an innocent fighter for peace, but an instigator of violence and terror. Any institution that welcomes her indirectly promotes violence and aggression instead of promoting dialogue and understanding."
Foreign Ministry spokesman Emanuel Nahshon wrote on his Twitter account, "The prestigious soccer club of Real Madrid embraces a terrorist inciting to hatred and violence. Shameful."
"Ahed Tamimi is promoting violence against Israeli citizens. @realmadrid-receiving a terrorist that incites hatred and violence is something that has nothing to do with universal football values."