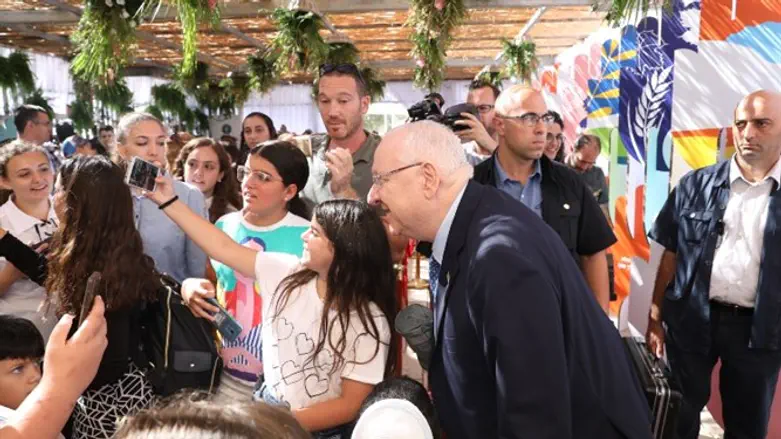 Selfie with President
Shmulik Solomon
President Reuven Rivlin and his wife Nechama opened the gates of the President's Residence today, and in the best Israeli tradition hosted citizens in their Sukkah.
This year's event, called Celebrating Health in the President's Sukkah, includes a range of activities for the entire family in the garden of the President's Residence in cooperation with the Health Ministry. The traditional Succah is also open to visitors and is decorated with original designs in cooperation with the Agriculture and Rural Development Ministry.
During the day, the President of Israel will go out to greet his guests with a holiday blessing. Rivlin said "Succot is a holiday of going out into the world, of living with nature. A holiday of simplicity, of health. Sukkot is also the holiday of the Ushpizin, a holiday when we are hosts and guests. The President's Residence is the home of all the citizens of the State of Israel and the President's Sukkah is the sukkah of each and every one and is open to everyone."
The President turned to the citizens and said, "I bless you with a happy holiday, and wish us all that our sukkah will be an ark of peace, health, and life, and that we will merit a year of health and prosperity."
The event includes a variety of activities for the entire family. Medical clowns wait at the entrance gates, and a guest wall is placed in the entrance for illustrating and signing. Among guests are "health inspectors", actors who tell children of all ages about maintaining a healthy lifestyle.
In the garden of the President's Residence there is a huge model of a mouth with mammoth toothbrushes that allow visitors to learn how to brush their teeth properly. In the hall, artist Hanoch Piven creates live portraits and paintings of fruits, vegetables, and various accessories.
From the main hall visitors pass to the traditional President's Sukkah, where the unique sukkah decorations and an original exhibition of the best vegetables and fruits from the country are presented by the Agriculture and Rural Development Ministry. On their way out of the President's Residence guests are invited to experience the "Bike Shake" facility - a bicycle attached to a blender that makes them make a smooth shake.
On the lawn there is folk dance, alongside stands displaying special vegetable and fruit varieties courtesy of the Agriculture Ministry. In the work area children are provided transparent food boxes that they can decorate as they wish, and receive health trivia cards with a gift from the Health Ministry. The house will be open to visitors until 15:00.