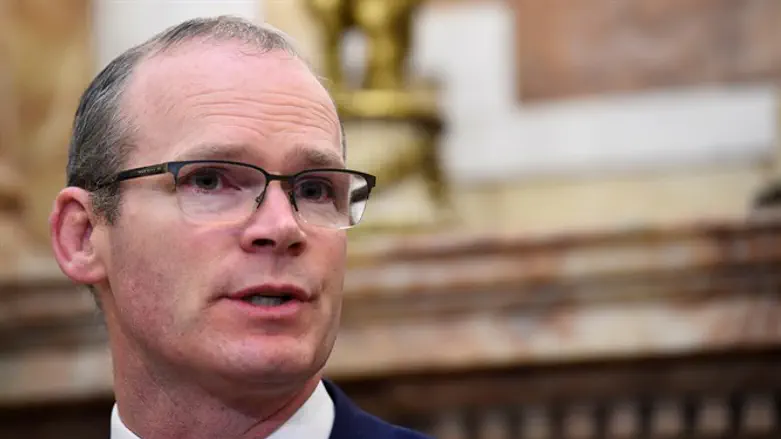 Irish Foreign Minister Simon Coveney
Reuters
Ireland may recognize a Palestinian state if peace talks with Israel aimed at producing a two-state solution in the region continue to stagnate, the country's Foreign Minister, Simon Coveney, said.
Coveney's comments came during a joint press conference on the weekend with the Palestinian Authority (PA) "foreign minister", Riyad Al-Maliki, reported The Irish Times.
Coveney said Ireland has already committed to recognizing a Palestinian state as part of a peace process. However, if negotiations between the side continue to prove fruitless "we may have to forget the second part of that," he added.
He speculated that other European countries would take a similar position.
Coveney's willingness to recognize a Palestinian state if talks continue to falter goes a step beyond the Fine Gael commitment on recognition as part of a peace process, noted The Irish Times.
"We have made a choice not to officially recognize the state of Palestine just yet," said the Minister. "But if this hopelessness continues in terms of the dialogue working we will be forced to review that for obvious reasons, as I think a lot of other countries in Europe will too."
In 2014, Irish lawmakers approved a non-binding symbolic motion urging their government to recognize "Palestine" as a state.
The PA says there are 139 countries that have recognized "Palestine", but those recognitions are symbolic and have little, if any, actual diplomatic effect.
PA chairman Mahmoud Abbas has been trying to bypass the US efforts to broker peace with Israel by convincing other countries to recognize "Palestine".
He urged the EU at the start of the year to "swiftly" grant official recognition to the "state of Palestine" in response to US President Donald Trump's recognition of Jerusalem as Israel's capital.
Last week, Spain's Foreign Minister said his country is ready to recognize a Palestinian state even if the European Union fails to reach a unanimous decision on the matter.
(Arutz Sheva's North American desk is keeping you updated until the start of Sukkot in New York. The time posted automatically on all Arutz Sheva articles, however, is Israeli time.)