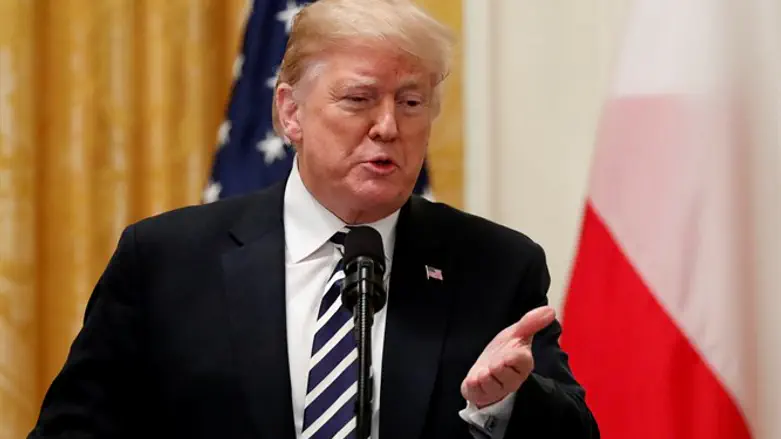 Donald Trump
Reuters
US President Donald Trump said on Tuesday that Syria likely shot down a Russian military plane near its coast.
"It sounds to me and it seems to me based on a review of the facts that Syria shot down a Russian plane. And I understand about 14 people were killed and that's a very sad thing but that's what happens," Trump said at a joint press conference at the White House with Polish President Andrzej Duda, as quoted by Reuters.
"We have done a tremendous job in Syria and in that region eradicating ISIS, which is why we are there. And we are very close to finishing that job," he added.
The Russian Defense Ministry earlier on Tuesday blamed Israel for the downing of an Ilyushin IL-20 turboprop reconnaissance over Syria.
The IDF denied Russia's claims, saying Syrian anti-air missiles fired after an Israeli airstrike in northern Syria struck the Russian plane, destroying it.
Russian President Vladimir Putin later said that the downing of the aircraft was the result of a "chain of tragic circumstances".
While Putin never directly attributed the downing of the aircraft to the Israel Air Force, ABC News reported that he backed a statement issued by Russia's Defense Ministry blaming Israel.
Prime Minister Binyamin Netanyahu subsequently spoke on the phone with Putin and expressed regret for the death of the crew members of the plane.
Netanyahu told Putin Syria was responsible for shooting down the Russian aircraft.
The Prime Minister noted the importance of continued security coordination between Israel and Russia, which has succeeded in preventing many losses on both sides.
Netanyahu stressed to the Russian President that Israel is ready to provide Russia with all the details of the investigation of the incident. Netanyahu proposed to send the commander of the Israeli Air Force to Moscow with all the relevant information.
(Arutz Sheva's North American desk is keeping you updated until the start of Yom Kippur in New York. The time posted automatically on all Arutz Sheva articles, however, is Israeli time.)