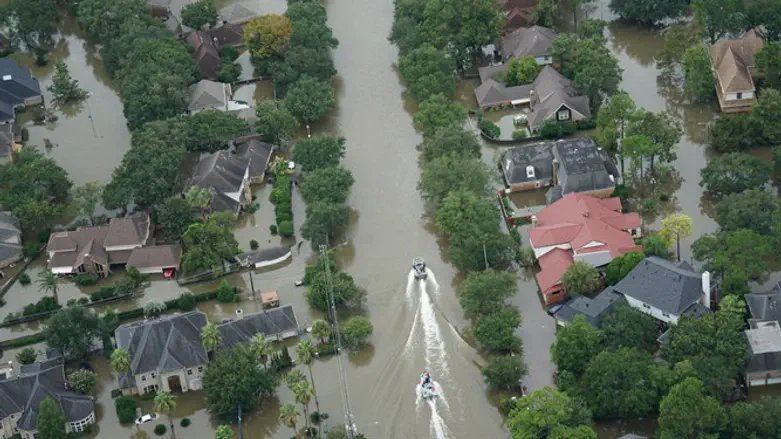 Hurricane Harvey
iStock
Jewish groups continue to assist in relief efforts for Hurricane Harvey, which struck Texas one year ago, while expressing concern for the victims of Hurricane Florence.
The Act Now Houston coalition – a partnership between national Jewish organizations including BBYO, Hillel International, JDC Entwine, Moishe House, OneTable, Repair the World, the Charles and Lynn Schusterman Family Foundation, and the Jewish Federation of Greater Houston – continues to send volunteers to the Houston area to support the victims of the devastating flooding that destroyed more than 300,000 homes in Houston alone.
In a post on Friday on Facebook, the coalition listed organizations that are mobilizing to help the victims of Hurricane Florence, which is still pelting North and South Carolina on the East Coast. "As a community of flood survivors and helpers, our hearts are with those who are now facing Hurricane Florence. Like you, we are monitoring the situation and look to support local relief efforts in the days, weeks, and months to come," the post said. "May the citizens facing Hurricane Florence find the safety and strength to endure the storm."
The coalition was founded in February, more than six months after Hurricane Harvey.
So far 900 individuals from 50 groups have served more than 15,000 volunteer hours through the initiative. In the coming months more Jewish organizations are scheduled to travel to Houston to help rebuild homes devastated by last year's hurricane.
Early volunteers cleaned out damaged and moldy items, sanitizing what remained, and installing insulation and sheetrock. They also packed and delivered food to families affected by the hurricane damage. Now they are focusing more on rebuilding.
"Though the headlines have moved on from this time last year, we have not forgotten the most vulnerable victims of Hurricane Harvey who still need our help. The rebuilding effort takes time, resources, dedication, and the commitment of people to serve in solidarity alongside those whose lives were devastated by the storm," Sacha Bodner, Program Manager of Act Now Houston, said in a statement.
Recent programs included members of the Jewish Teen Initiative of Greater Boston, which spent four days rebuilding the home of a single woman named Cynthia, including painting, tiling a bathroom, installing cabinets, and flooring. The teens met with the homeowner and received her thanks in person. Moishe House-affiliated Jewish young adults traveled to Houston over the summer to assist in rebuilding a home that had been destroyed during the hurricane.