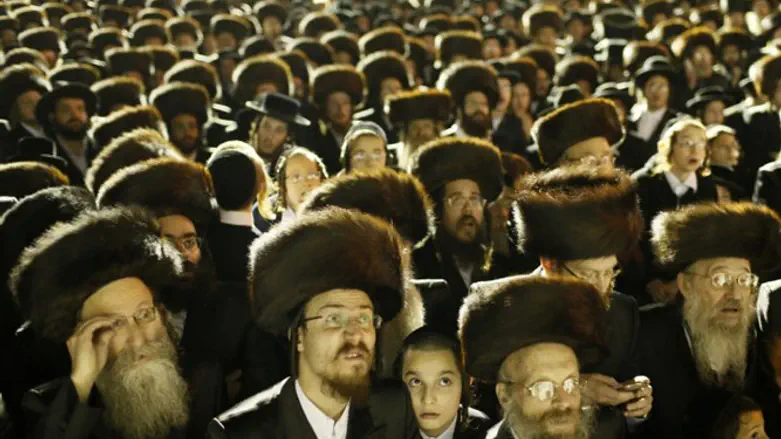 Satmar Hasidim
Nati Shohat/Flash90
The supervisor of the Town of Chester in southeastern New York said the town is buying up available property in order to prevent future development by the Hasidic community.
Chester Supervisor Alex Jamieson told the local newspaper the Times Herald-Record on Thursday that town residents fear that the Hasidic community of Kiryas Joel will expand into the town.
His comments came a day after the Town Board approved the purchase of the Sugar Loaf Performing Arts Center, an 8.8-acre property, for $1 million. He told the newspaper that the purchase was one of several to be finalized in the coming weeks and months for the purpose of slowing a Hasidic expansion.
"People realize what the possibilities are. The fear of KJ [Kiryas Joel] expanding into Chester is scaring people half to death," Jamieson told the Herald-Record. "It's not just the Greens at Chester. They are buying property all around it."
Greens at Chester, a 431-home development being built on a 110-acre site in the town, is slated be a predominantly Hasidic community and could eventually be home to 3,000 people, according to the Herald-Record. Chester is located near the border with New Jersey.
The town also is finalizing a contract to buy two parcels of land outside Sugar Loaf totaling 160 acres, according to the report.
Earlier this year Jamieson also said at a Town Board meeting that it will look into switching to a ward system for electing Town Board members in an effort to lessen the impact of an influx of Hasidic residents. The ward system idea will be on the town's November ballot.
"The idea is to keep the Hasidic out so that they can't control the Town Board," Jamieson said, according to the newspaper.
On Friday, News 12 Westchester cited Jamieson as saying that he told the Herald-Record reporter that the land purchase was to preserve the rural character of Chester. He said the reporter asked him if it was to keep the Hasidics out. Jamieson says he then told the reporter "well if we purchase the property, that's going to keep them out."
"I didn't say we were buying it to keep them out," Jamieson told News 12. "We have visions for what we want to do with these properties. We're not just buying properties to shoot from the hip."