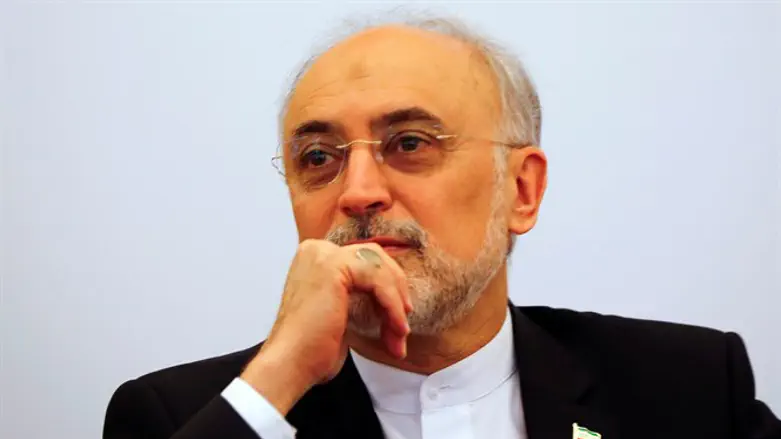 Ali Akbar Salehi
Reuters
Iran's nuclear chief, Ali Akbar Salehi, said on Sunday that the Islamic Republic has completed a facility to build advanced centrifuges at the Natanz nuclear plant, Reuters reported.
In June, Salehi, who heads the Atomic Energy Organization of Iran, said the facility at the Natanz nuclear plant would be completed within a month.
Salehi's statement in June came days after Supreme Leader Ayatollah Ali Khamenei said he had ordered preparations to increase the country's uranium enrichment capacity if the nuclear agreement with world powers collapsed.
On Sunday, Salehi announced, "(Ayatollah Khamenei) had ordered us to set up and complete a very advanced hall for the construction of modern centrifuges, and this hall has now been fully equipped and set up."
Salehi said Iran's announced plans to build nuclear reactors for ships, while staying within the limits set by its atomic deal with major powers, was "advancing well but would take 10 to 15 years to complete".
"A third step (in reaction to the U.S. withdrawal) might be to suspend some of the limitations within the nuclear agreement, for example on the volume and level of enrichment," he added.
"And the final scenario can be a complete exit from the nuclear accord, which I hope will never happen, with the help of (remaining signatories), because everyone would suffer," said Salehi.
Iran's announcement of the construction in Natanz came shortly after US President Donald Trump withdrew from the 2015 Iran deal, which saw Iran restricting its enrichment program and in return winning relief from sanctions.
More recently, Trump signed an executive order officially reinstating sanctions against Iran.
The European signatories to the deal did not agree with Trump's decision to leave the deal and have been trying to save the accord, which they see as crucial to forestalling an Iranian nuclear weapon.
Tehran has demanded that Europe come up with an economic package to offset the effects of the US withdrawal but so far has found Europe's proposals to be unsatisfactory.
Last week, Iran threatened to begin uranium enrichment beyond previous levels if the remaining parties fail to uphold the 2015 deal.
(Arutz Sheva's North American desk is keeping you updated until the start of Rosh Hashanah in New York. The time posted automatically on all Arutz Sheva articles, however, is Israeli time.)