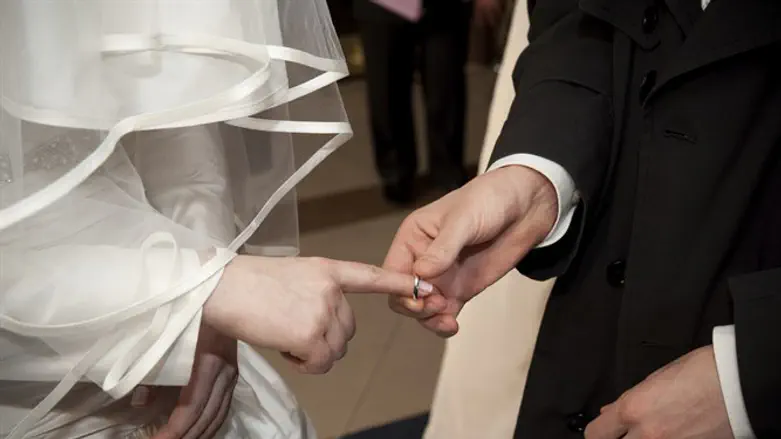 Jewish wedding (illustration)
iStock
The city of Lublin in eastern Poland, which used to be a hub of Jewish learning, saw what local media called its first real Jewish wedding in decades.
The wedding of Yohanan Petrovsky-Stern and Anastasia Simferovska, two academics with Ukrainian roots, wed last month in Lublin's old city at a ceremony where the chief rabbi of Poland, was "probably the first after Holocaust," the TVP television station reported. Michael Schudrich, the chief rabbi of Poland, conducted the chuppah (marriage) ceremony on Po Farze Square.
A wedding celebration for several dozen guests was held at Ilan, a kosher-style hotel that the Jewish Community of Warsaw opened in 2013 inside what used to be the 55,000-square feet building of Chachmei Lublin Yeshiva, staff told JTA Wednesday. The building, a massive structure built in the Eclecticist style of the 1920s, was opened in 1930 in Lublin, which then had about 40,000 Jews who constituted at least half of its population.
Today, only several dozen Jews live in Lublin. Locals periodically organize fake Jewish weddings in Lublin during heritage festivals as a tribute to the city's rich Jewish past.
The yeshiva it housed quickly became Eastern Europe's most prestigious. It was also revolutionary in that its six floors featured a luxurious synagogue, a library with more than 20,000 volumes, and spacious classrooms and dormitories, freeing students from worrying about rent and allowing them to immerse themselves in the study of Jewish scripture.
The building was confiscated in 1939 by the Nazis, who burned the library and other artifacts on a square adjacent to the synagogue. The fire raged for 20 hours.
The building was then taken over by the communists, who turned it into a movie theater at one point. It was finally returned to the Jewish community in 2003 and its synagogue reopened in 2007.
Today, the hotel operating there is a 4-star establishment with 42 rooms, 22 staff and an Israeli restaurant. It is a major attraction for Jewish and non-Jewish tourists who arrive in buses from across the region.