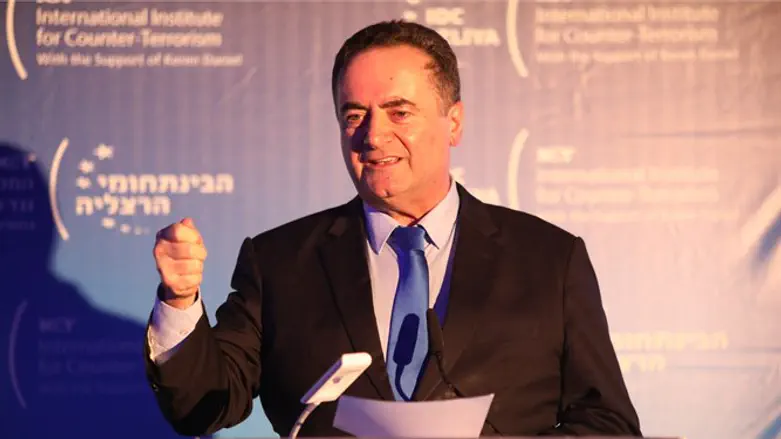 Minister Katz at International Institute for Counter-Terrorism Conference
Lior Avitan
Transportation and Intelligence Minister Yisrael Katz (Likud) spoke on Tuesday at the annual International Institute for Counter-Terrorism Conference in Herzliya.
"The war on terrorism also requires dealing with countries that support terror, fund it, provide it with weapons and training, and constitute a logistical hinterland for the terrorist organizations," he said.
"The Iranian regime is the world's leading sponsor of terrorism. It is the one that funds and arms Hezbollah in Lebanon, the Palestinian Islamic Jihad and Hamas in Gaza, and other groups throughout the Middle East," Katz continued.
"One way to curb Iran's influence is to establish a regional economic axis between Israel and the pragmatic Sunni states in the region. Connecting the region to a transport-economic network would be a counterweight to the Shiite axis of terror led by Iran. The day after ISIS is defeated in Iraq and Syria will be the day on which Iran poses the greatest threat to the region."
"We must focus on halting and reversing the Iranian threat and forcing the regime in Tehran to end its support of the terrorist organizations, with an emphasis on Hezbollah, and its harmful activities in the region. The US withdrawal from the nuclear agreement and the renewal of sanctions against Iran are of great importance in this context. The economic sanctions against Iran have been effective in the past and are effective today," stressed Katz.
"US policy towards Iran under President Trump and his team and the joint vision of the administration and the Israeli government regarding the Iranian threat, Israel's determination to enforce its red lines regarding Iran in Syria, the understanding among Iran's allies regarding the inherent danger in its quest to establish military bases in Syria and the situation in Iran itself - the economic crisis, the public protests and the tensions at the top - the combination of all these creates an opportunity today to block Iran and its proxies in the region and to stop its support for terrorism," he concluded.