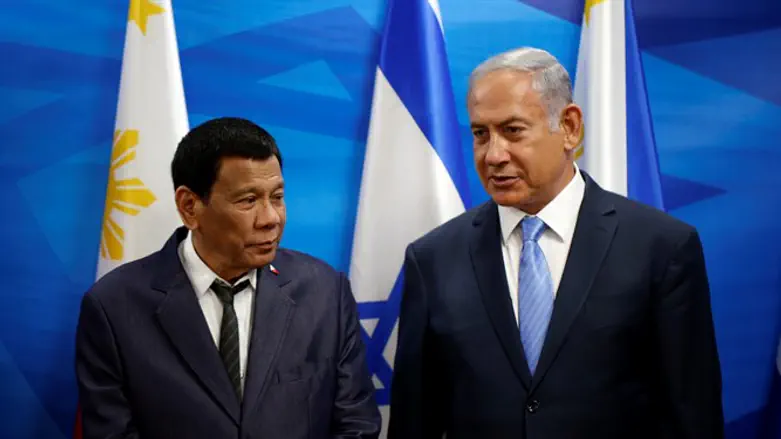 Philippine President Rodrigo Duterte and Israeli PM Binyamin Netanyahu
Reuters
Philippine President Rodrigo Duterte paid his respects at Israel's Holocaust memorial on Monday after meeting Israeli Prime Minister Binyamin Netanyahu.
Ahead of their working lunch, Duterte said he and Netanyahu "share the same passion for peace."
"But we also share the same passion of not allowing our country to be destroyed by those who have the corrupt ideology who knows nothing but to kill and destroy," he said in English.
During their meeting, Netanyahu noted the Philippines' support for Israel at the United Nations and said that his father had been cared for by a Filipino in his later years, as is the case with many elderly Israelis.
Duterte's visit to the Yad Vashem Holocaust memorial in Jerusalem later Monday led to criticism even before it took place, mainly due to comments in 2016 when he likened himself to Adolf Hitler.
Duterte later apologized and said he had been misunderstood.
The Philippines was among the countries that abstained from a UN General Assembly vote rejecting US President Donald Trump's recognition of Jerusalem as Israel's capital in December.
Israel's government has focused on the positive aspects of Duterte's visit, the first by a Philippine leader in more than 60 years of diplomatic ties.
Topics expected to be discussed include defense deals, a key industry for Israel which is among the world's biggest arms exporters.
A memorandum of understanding has already been signed between the two countries for cooperation in the field of promoting international investments.
The Philippines emerged as a significant new customer in 2017 for Israel, with sales of radar and anti-tank equipment worth $21 million.
It is also an important provider of labor to Israel, where some 28,000 Filipinos live including many working as care providers for the elderly.
On Wednesday, Duterte will inaugurate a memorial near Tel Aviv commemorating the Philippines' acceptance of 1,300 Jews fleeing the Holocaust.
"We assign great importance to this visit, which symbolizes the strong, warm ties between our two peoples as well as the enormous potential for developing and strengthening the relations," Israel's foreign ministry said.
Duterte heads to Jordan on September 5, where he is expected to meet King Abdullah II.