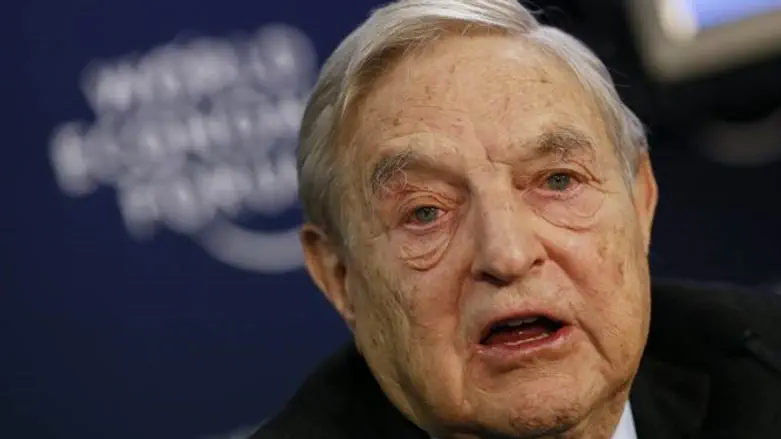 George Soros
REUTERS
Iranian Foreign Minister Mohammad Zarif said Sunday that the Iranian government has worked closely with billionaire George Soros' Open Society Foundations (OSF) organization.
Zarif made the remarks in response to questions raised in the Iranian parliament. According to Zarif, the activity began before he entered his current position, and he boasted that he had succeeded in "keeping the activity organized."
OSF has funded a number of far-left organizations in Israel which seek to change the policy of Israel's government.
According to NGO Monitor, among the top beneficiaries of OSF funding is Human Rights Watch, which has been criticized for targeting, and falsely libeling, the state of Israel. Another is J Street, which describes itself as "pro-Israel" but has been termed anti-Israelby others for, among other things, welcoming proponents of a boycott on Israel at its national conference and honoring IDF soldiers who refused orders.
Another recipient of OSF funding is the Institute for Middle East Understanding, which, NGO-Monitor reports, is headed by staff who have accused Israel of war crimes and have termed Israel an "apartheid state.
The extreme-left Israeli group B'Tselem also receives OSF funds. B'Tselem is notorious for publishing one-sided reports, and for inflating Arab civilian casualty figures. For example, the group included hundreds of Hamas policemen in Gaza as "non-combatants," and counted Sheikh Ahmed Yassin – then the leader of Hamas – as not a definite combatant.
B'Tselem has listed OSF as a source of support, but OSF has not listed B'Tselem as a recipient, indicating that the grant may have come through an overseas entity.
A leaked OSF document said that OSF's strategy with respect to Israel is to "focus on raising the cost of the occupation and ending it on the one hand, and on human rights advocacy and protection on the other."