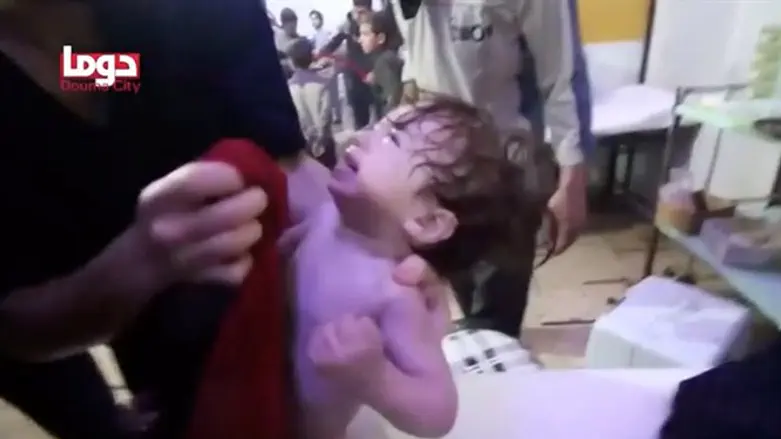 Douma baby receives treatment after chemical attack
Reuters
Russia on Tuesday accused Syrian rebels of preparing a chemical attack which it said will be used to justify a Western strike against Syrian troops, The Associated Press reported.
Russia's Deputy Foreign Minister Sergei Ryabkov claimed that the Al-Qaeda-linked Levant Liberation Committee is preparing the attack in the northern Idlib province, and that it would be filmed by first-responders known as the White Helmets, who Russia has accused of fabricating past attacks.
Western countries and independent analysts say Syrian government forces have conducted several chemical weapons attacks over the course of the seven-year civil war in the country. Such chemical attacks in 2017 and earlier this year led the U.S. to launch punitive strikes against Syrian forces.
Syria denies that it has ever used chemical weapons against civilians and has received the backing on this issue from Russia, its close ally.
Russia has used its veto power at the United Nations Security Council more than ten times to block international action in Syria.
The Syrian government has been sending reinforcements toward Idlib for weeks ahead of an expected offensive against the last major rebel stronghold in the country.
Last week, Russian Maj. Gen. Alexei Tsygankov, who heads the center for reconciliation of warring parties in Syria, claimed that British special services were involved in plans for the alleged provocation.
That brought a heated denial Tuesday from Britain's UN ambassador, Karen Pierce, who said, "Even by the egregious standards of Russian propaganda, this is an extraordinary allegation. It is wholly untrue."
This is not the first time that Russia has made such accusations against Britain. In April, Moscow claimed that Britain staged a fake chemical attack in the Syrian town of Douma in which as many as 150 people were killed and more than 1,000 injured.
U.S. National Security Adviser John Bolton last week warned Syria's government against using chemical weapons and vowed a tough response if it does, noted AP.