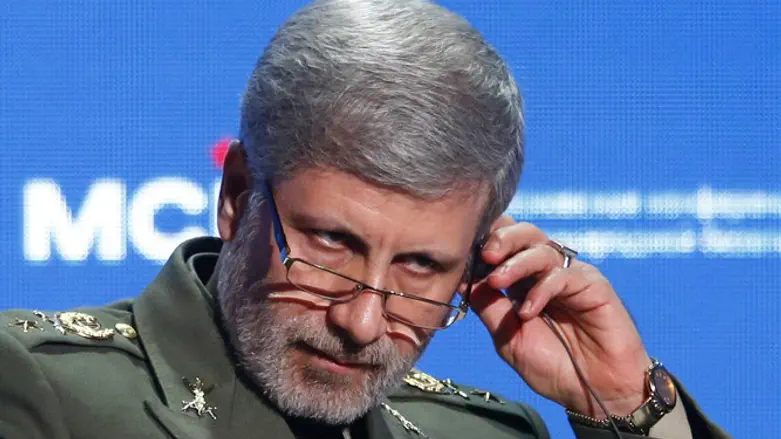 Amir Hatami
Reuters
Iranian Defense Minister Amir Hatami claimed on Monday that Prime Minister Binyamin Netanyahu is maintaining tension in the Middle East in order to have an economic impact on Iran.
The comments by Hatami were made in an interview with the Lebanese Al-Mayadeen TV, which is associated with the Hezbollah terrorist organization.
"I think that Netanyahu is maintaining a tense atmosphere in the region in order to have an economic impact on the Islamic Republic," said the Iranian Defense Minister, who is visiting Syria, according to a translation by Channel 10 News.
Hatami also referred to the possibility of an Israeli attack on Iranian forces in Syria and said, "Based on my knowledge of Iran's air defense capabilities, I think that Netanyahu's threats to attack Iranian forces in Syria are far from reality."
Hatami also discussed the Iranian presence in Syria and said that it was the business of the two countries, and that no third country could intervene in this matter. His comments came after he was asked whether Iran was asked by Russia to withdraw its forces from Syria.
The Iranian Defense Minister was asked whether, as part of the rehabilitation of the Syrian army's infrastructure, the Syrian army's missile system would also be improved. For his part, he noted that the Islamic Republic would provide Syria with any assistance requested under the agreement.
"The Syrian government has the right to respond to any aggression against it, as has already happened in the past. Syria's allies are ready to respond to any aggression. Syria has already been attacked in the past, but the attacks have had no significant effect. The Syrian government is now in a very good position, it does not allow anyone to attack it without a response," asserted Hatami.
Earlier on Monday, Iran and Syria signed a deal cementing Iran's "cooperation" with the regime of Syrian President Bashar Al-Assad.
"Syria is passing the phase of crisis to the phase of reconstruction and as a result, the signed agreement will define the areas of presence, contribution and cooperation between Tehran and Damascus," Hatami said, according to a report by Mehr.
Iran has been providing Assad with both financial aid and military advisors against a range of opposing forces since the start of the Syrian civil war in 2011.
Near the start of the Syrian civil war, it was reported that then-Iranian President Mahmoud Ahmadinejad had personally sanctioned the dispatch of officers from the Iranian Revolutionary Guards to Syria to fight alongside Assad's troops.
Ali Akbar Velayati, a top aide to Iranian Supreme Leader Ayatollah Ali Khamenei, recently made clear that Iran would withdraw its "military advisers" from Syria and Iraq only if their governments wanted it to.
Israel has expressed concern over Iran's growing influence in Syria, while the United States has been pressing for Iran to withdraw its fighters from Syria.
Israeli officials have made clear that Israel will not accept any Iranian military entrenchment in Syria. Prime Minister Binyamin Netanyahu and Russian President Vladimir Putin have held several meetings to discuss the issue.
A U.S. official said last week that President Donald Trump and Putin agreed in principle during their July summit in Helsinki that Iran should exit Syria.