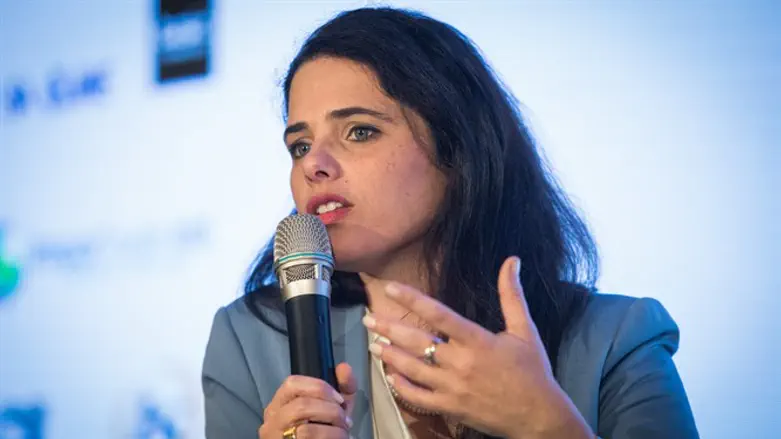 Ayelet Shaked
Yonatan Sindel, Flash 90
A new survey publicized by the "Meet the Israeli Press" program shows that Justice Minister Ayelet Shaked (Jewish Home) is the Knesset's most popular minister.
Previously Deputy Health Minister Yakov Litzman (UTJ) held that place.
The survey, conducted by Midgam, showed that Education Minister Naftali Bennett (Jewish Home) shares second place with Israeli Prime Minister Binyamin Netanyahu.
According to the survey, 57% of Israelis are satisfied with Shaked's performance, representing a 10% rise since January 2016. The public's satisfaction with Bennett's performance, now 51%, is up from 45% in January 2016.
Netanyahu's score, now 51%, is up from 32% in the previous survey.
Transportation Minister Yisrael Katz (Likud) retained his 50% satisfaction rate, with Public Security Minister Gilad Erdan (Likud) following him with 47%, and Finance Minister Moshe Kahlon receiving a score of 41%. In January 2016, 38% of Israelis were satisfied with Erdan's performance, and 32% with Kahlon's performance.
Culture and Sport Minister Miri Regev (Likud) was rated by 40% as performing satisfactorily (up from 38% in the previous poll), with Defense Minister Avigdor Liberman (Yisrael Beytenu) coming in with 37% and Welfare Minister Haim Katz 22%.
Interior Minister Aryeh Deri (Shas) is the least popular minister, with only 17% reporting his performance as satisfactory, down from 19% in January 2016.