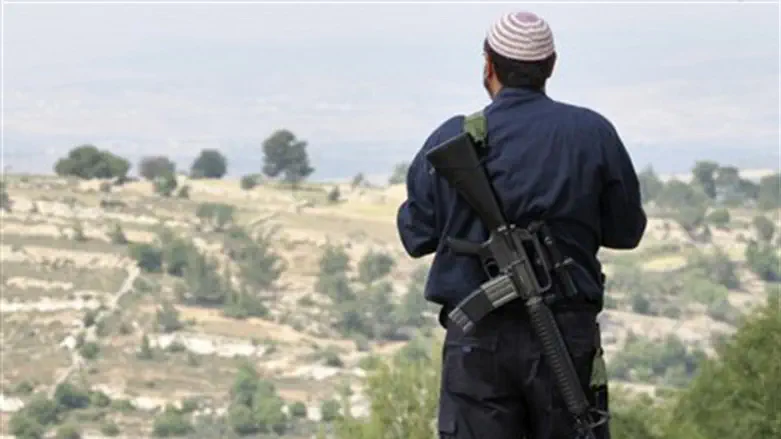 Standing guard in Judea and Samaria
Nati Shohat/Flash 90
France on Friday condemned the approval of 1,000 new housing units for Judea and Samaria by the Supreme Planning Council of the Civil Administration, reported Yediot Aharonot.
A statement issued by the French Embassy in Israel stated that the construction of the housing units, which causes the demolition and evacuation of Palestinian homes in Area C, harms a future Palestinian state.
"France calls on the Israeli authorities to reconsider the construction of housing units and to stop its settlement policy," added the statement.
On Thursday, the European Union (EU) released a sharply-worded statement criticizing Israel over the approval of the construction.
"Within the past two weeks the Israeli authorities have advanced plans and tenders for over two thousand settlement units in the West Bank including East Jerusalem. If implemented, these plans would further jeopardize the prospect of a contiguous and viable future Palestinian state," said the EU.
"The EU is strongly opposed to Israel's settlement policy which is illegal under international law and an obstacle to peace," continued the statement, adding that the diplomatic body "will continue to engage with both parties and with its international and regional partners to support a resumption of a meaningful process towards a negotiated two-state solution, the only realistic and viable way to fulfil the legitimate aspirations of both parties".
Saeb Erekat, secretary of the executive committee of the Palestine Liberation Organization (PLO), also condemned the construction on "occupied Palestinian land" and said it is the result of American policy that encourages human rights violations by Israel.
"The settlement colonialist expansion in occupied Palestine by the Israeli occupation regime is not only a serious violation of international humanitarian law but a war crime," Erekat charged.
He called on the international community to impose sanctions on Israel until it fulfills its obligations under international law and UN resolutions.
(Arutz Sheva's North American desk is keeping you updated until the start of Shabbat in New York. The time posted automatically on all Arutz Sheva articles, however, is Israeli time.)